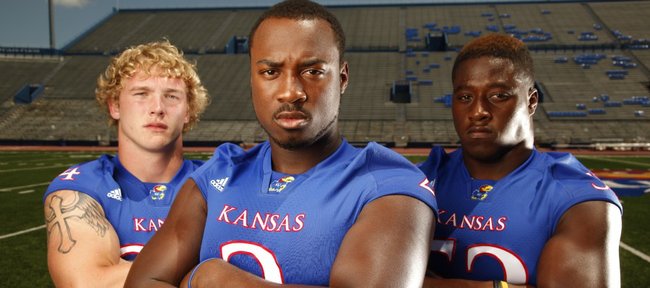 This story is part of the KU Edition, a special section that runs in the Lawrence Journal-World.
In 2010, Kansas University linebackers Justin Springer, Drew Dudley and Steven Johnson played just about every snap and even took turns on special teams.
The reason? KU had the least depth at linebacker — and, really, throughout its entire roster — than it had seen in years.
The result wasn't pretty. The KU defense finished ranked 98th in total defense, a number that included 107th against the run, 65th against the pass and 103rd in scoring.
Game after game, KU's lack of depth and speed put the Jayhawks in a hole from the start and, as the games went on and starters wore down, the margin on the scoreboard grew.
Johnson, last year's leading tackler, returns for his senior season, and instead of lamenting the loss of his partners in crime, Johnson has spent the summer celebrating all of the new faces lined up around him.
"Last year, there were only really three of us who played the majority of the snaps," Johnson said of the KU linebackers. "But this year, we've got so many guys who can play and who are good. In practice, we're gonna be able to push each other. On the field, we'll be able to keep fresh bodies in there."
Junior Darius Willis is one of the most-talked about guys in the mix. The transfer from Buffalo red-shirted last season and continually made a name for himself with the scout team. As the Jayhawks entered spring ball, Willis already was being talked about as one of the team's leaders.
Joining him and Johnson in the middle of the defense are junior-college transfers Tunde Bakare and Malcolm Walker. Both bring experience and blazing speed.
Also back is sophomore Huldon Tharp, a former freshman All-American who missed all of last year because of an injury. Add to that list experienced reserves Steve Mestan and Prinz Kande, as well as five true freshmen and a handful of others who red-shirted last year, and it's easy to see why the Jayhawks feel good about this position.
Another position the Jayhawks feel strong about is their secondary.
Their front-line guys are elite athletes who should be poised for breakout seasons in 2011. Safeties Bradley McDougald (a former receiver and Ohio State commitment) and Keeston Terry bring more speed and athleticism to the secondary.
And cornerbacks Greg Brown and Isiah Barfield wrapped up 2010 as two of the most improved players on the roster. Add to that foursome the presence of last year's nickel back, Tyler Patmon, a natural playmaker, and you're staring at a unit that has a chance to improve KU's pass defense immensely.
Behind them sits experience in Anthony Davis, Corrigan Powell and Lubbock Smith. All three have starting experience.
"I think you have to have some depth to be successful," coach Turner Gill said. "We are getting there now. When you start talking about depth, it means you have competition. When you have competition, then you're talking about raising your level of play."
With depth and talent in place down the field, the biggest question for the KU defense will be up front. As KU enters the season, the Jayhawks' defensive line has just one player who has proven himself to be an All-Big 12-caliber talent: junior defensive end Toben Opurum, a former running back who has transitioned to defense full-time and with ease.
Outside of Opurum, the D-Line has a few players with potential, but none are proven. Tackles Kevin Young and Patrick Dorsey and defensive end Keba Agostinho are three of the biggest names on the D-Line. Richard Johnson Jr. and John Williams are two of the biggest bodies on the line. And first-year players Pat Lewandowski, Michael Reynolds and Julius Green are the top candidates to provide the Jayhawks a much-needed pass-rushing presence to go with Opurum.
With cornerbacks coach Vic Shealy taking over for defensive coordinator Carl Torbush, who retired this offseason to focus on a battle with cancer, the KU defense should have a little different look this season.
"We're gonna be a little more aggressive," Gill said. "And when you're more aggressive, you may be a little bit more simplified because you want them to do that great. When you do a lot, there are gonna be some areas where you won't be quite as sharp."
It all comes down to putting players in position to make plays.
"When you get more speed on the field, it's like more magnets to the football," Johnson said. "You're not always gonna see just one guy hitting, you're going to see a lot of blue hats getting to the ball."
More depth and speed will allow the Jayhawks to take more risks and give better effort on every play. Some guys, like Johnson, did that anyway.
Now, with the luxury of getting a few rests during each game, Johnson figures to be able to stay fresh, even if he doesn't know how to handle the time off.
"I usually don't like resting during the games," he said. "I get so competitive, and whenever they try to send someone in for me, I'm just like, 'Hold on.'
"It's not about me, though," Johnson said. "It's about the team. It's about the win."
More like this story on KUsports.com