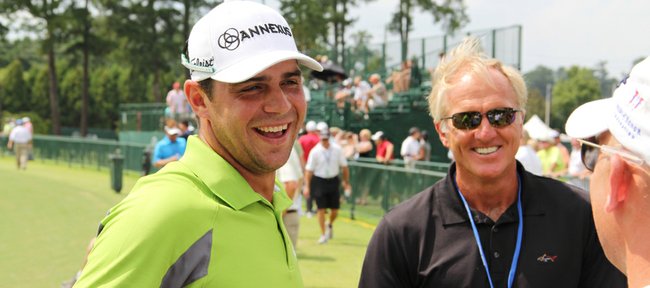 Johns Creek, Ga. — Gary Woodland's PGA Championship game plan is set, and priority No. 1 is to find the fairway.
Former Kansas University golfer Woodland has been consistently good all season, but especially at the majors. Woodland is one of only three American golfers (Steve Stricker, Ryan Palmer) to finish in the top 30 in each of this year's three previous majors.
With the PGA Championship beginning today at Atlanta Athletic Club, a course that plays to Woodland's strengths — namely, the long ball — he has even higher expectations for a good tournament.
"We did a little extra preparation for this tournament. We came in a few weeks ago and got most of our work done," Woodland said. "Now we're just trying to make sure the game is ready to go and hopefully go out and have a big week."
Woodland visited Atlanta Athletic Club three weeks prior to the tournament and did most of his studying before the crowds arrived. This week, he took a calm approach to preparing for the tournament, spending time on the range each day along with nine holes Tuesday and nine holes Wednesday.
"I've played consistent, but I haven't played great yet," Woodland said of his 2011 major experiences. "I haven't done exactly what I wanted to do."
Woodland admits that Atlanta Athletic Club — set to play at a whopping 7,467 yards and a par of 70 — is the type of course where he plays well.
"It's a ball-striker's paradise," Woodland said. "You have to drive it in play. You have to drive it long. I think that's the big deal out here."
Driving it long is something Woodland has done well this season. He ranks sixth in driving distance on the PGA Tour, with an average drive of 309.7 yards. Woodland's caddie, John Yarbrough, believes that Woodland's length will give him an advantage at the PGA Championship.
"This course sets up great for us. No. 1, it's long. No. 2, the zoysia fairways," Yarbrough said. "The ball doesn't run, it's all carry. Gary hits the ball in the air. It's definitely a huge advantage for us."
Woodland has won one tournament this year and has earned $2.7 million this season. Despite being one of the young breakout players this season, Woodland still feels like he has been overlooked by many golf fans.
"I still think I'm flying under the radar quite a bit. Which is good, but you also like to be noticed for what you're doing," Woodland says. "I think (a breakout) is coming. Hopefully with a great week, we'll get our name up there with the big boys."
Yarbrough says he's noticed more attention for Woodland as the season has progressed.
"(His profile has) elevated all season. Partially because he's played really well, but also because guys want to see him hit the driver, because he is so long," Yarbrough says. "It helps him get recognized. But it's more about him wanting to win and being one of the best players in the world. Hitting it long helps him get there, but he wants to be known as more than the guy who hits it 350 yards — he's got loftier goals than that."
With tough slope on the greens and the slow-rolling fairways, Woodland says he might not unleash the driver as much as fans might expect.
"It's hot. The ball is going to be going far. You won't have to hit a lot of drivers, just keep it in play," Woodland says. "It depends on conditions, and it depends on how they set it up. If they set it up long and tough, I think single digits score will easily win this. But if it gets soft out there and they play it up a little bit, I think you can score pretty good."
Yarbrough affirms that if there were a strategy this week, above all it would be to keep it in the short grass.
"That's priority No. 1, whether you hit 2-iron, 3-wood, driver, whatever it takes," Yarbrough says. "The way the greens are sloped — so much from back to front — that you don't want to be coming out of the rough hitting fliers."
Even if he is hitting driver, don't expect too many fans to shout out the typical "You the man!" when Woodland is on the tee. He gets a different cheer out here on the Tour: "Rock chalk!"
"Everywhere, I hear 'Rock chalk' so much, it's unbelievable," the Topeka native says with a smile. "It's nice. Unfortunately, with sponsors, I don't have the Jayhawk on the bag anymore. But I still hear 'Rock chalk Jayhawk.' It's awesome people know where I'm from. I'll always be a Kansas boy."
Yarbrough, who lives in Dallas, didn't believe there were so many Jayhawks in the world until he started working with Woodland.
"Every week, it doesn't matter where we are, we hear 'Rock chalk' out of the crowd all the time," Yarbrough laughs. "It's a big following. I told him, 'I didn't know there were this many alumni or fans around the country — it's huge.'"
For now, Woodland and his caddie are just excited to play some golf. Woodland tees off today at 6:45 a.m. CST with Scottish golfer Steven Gallacher and fellow American Mike Northern. Both Woodland and his caddie say there's no added emphasis on the tournament because it's a major.
"We're just going to try to drive the ball in play. The prep work for the course is done. Now it's just making sure the game is ready to go," Woodland says. "Obviously, for a major championship, you have to drive it in play and make some putts. That's what we're going to try to do. Hopefully we get it all done."
"Our game plan has paid off for the first three majors so far. Hopefully it pays off again," Yarbrough says. "We're just a few shots from having really good finishes in the majors."
— Seth Jones is editor-in-chief of Golfdom magazine. He lives in Eudora.