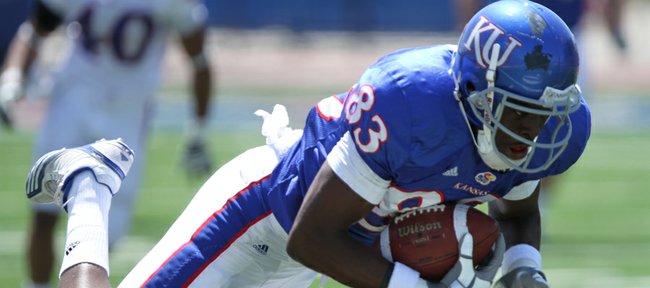 Kansas University sophomore Chris Omigie is one of those guys on the Jayhawks' football roster you probably should know something about.
This season will be his third in the program, and, because of his 6-foot-4 frame and sparkling high school resume, many paint Omigie as a guy who could've, and in some cases should've, made a splash long before now.
Not so fast.
For starters, Omigie's still young.
Two seasons ago, when he appropriately decided to red-shirt, he was slotted behind two of the best wideouts the university ever had: Dezmon Briscoe and Kerry Meier.
Last year could have been Omigie's big season. With Briscoe and Meier gone, there was an opening for a big-play receiver. But a new coaching staff, a new offense — his third in three seasons — and his own uncertainty held him back, and the Arlington, Texas, native finished 2010 with just 73 yards on seven receptions while playing sparingly in 10 games.
Like many of his teammates, Omigie enters 2011 bigger, faster and stronger and ready to make his mark.
That's really nothing new.
"I feel like every year's the year I have to do it," Omigie said. "Whenever I'm on the field, I feel like I have to do it."
This might be the year he gets his first real opportunity to follow through.
Although nearly a dozen receivers are vying for playing time, Omigie currently sits second on the depth chart, behind third-year sophomore Christian Matthews, a player very much in the same situation as Omigie.
Erick McGriff, another sophomore who also is beginning his third season at Kansas, is trying to find his place as well.
While that threesome, as well as red-shirt freshmen Ricki Herod, Brian Maura and Andrew Turzilli, aim to break through, the KU coaches continue to stock the cupboard with young talent.
Through six practices this fall, true freshmen Marquis Jackson and JaCorey Shepherd already have turned heads.
Although senior wideout Daymond Patterson said he, too, had been impressed by the freshmen, he cautioned against overhyping them while writing off the others.
"In recruiting now-days, you get to see so much video and all their stats and you just have such high expectations for guys," Patterson said. "Sometimes it's not really fair to put expectations on guys who are that young. All those young guys, they are in that spot where they can have a breakout year or a breakout game any day."
When he's not watching film of himself or his teammates, Omigie likes to study a couple of pro football's top pass-catchers.
"The receivers I look up to the most would have to be Calvin Johnson or Andre Johnson," Omigie said. "Them both being big receivers, 6-4, 6-5 guys who go up and get the ball, I just feel like those are two receivers that I should try to mold myself into."
His all-time favorite is another guy who wasn't afraid to fight for what he believed was his, on and off the gridiron.
"My favorite all-time is probably T.O., Terrell Owens," Omigie said. "When he came to Dallas, I started watching him a lot, and I just really started liking the way he played. He didn't leave anything in the tank. He put everything he had out there."
That's what Omigie plans to do this year, regardless of what it yields or how often he gets the opportunity.
"Last year, we were all real young, and I think we were dealing with a lot of nerves," he said. "We didn't really have any games under our belts besides high school so we were all just coming in new and fresh. Now that we've knocked the cobwebs off, I think we'll be a lot better this season. It's not gonna be too much different, it's just gonna be a lot more assignment sound. We all know the offense better now that it's our second year with these coaches. Everything's gonna be a lot smoother."
More like this story on KUsports.com