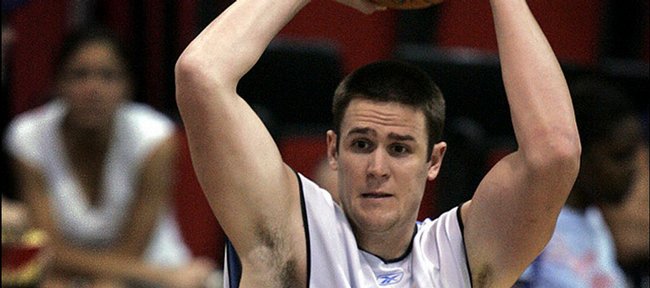 Southern California native Eric Chenowith is expecting an important document to arrive in the mail any day now.
That'd be his 2011 Kansas University diploma.
"It was at will-call at Strong Hall, but I didn't want to make a flight to Lawrence to pick it up," joked Chenowith, who is beginning his third year as assistant boys basketball coach at Villa Park High School.
"The records department is mailing it out to me."
The 32-year-old former KU center is eager to rip open the envelope and inspect a piece of paper that took 14 years to obtain.
"This makes me feel good. It gives order to my life," said Chenowith, who left KU in the spring of 2001 needing 19 hours to fulfill requirements for a communication-studies degree.
"I always had in my mind that I'd go back to school to get it. I thought it was kind of inconsiderate of myself not to finish. I'm glad I did because everybody called me an alumni, but I wasn't an alumni. Now I'm a true alumni."
He passed 10 hours last winter at Orange Coast College and nine hours the ensuing spring via correspondence work at KU to ensure himself his diploma.
"I always felt like a Jayhawk, but now I feel more like a Jayhawk," said Chenowith, now equipped to fulfill his dream of becoming a college coach.
"I already started networking, but I never had my degree. Now that I have it, I can do anything I want to do, and that's college coaching," added Chenowith, whose professional-hoops career took him to France, China and Puerto Rico as well as the NBDL and two other minor leagues in the U.S.
He credits KU associate athletic director/academic and career counseling Scott Ward, Orange Coast College professor Kat Carroll and former KU assistant Joe Holladay for helping him earn his degree.
"The hardest part was to figure out what I needed. Scott Ward mapped it out. I followed his plan. I couldn't have done it without him," Chenowith said.
Ward said he was proud of Chenowith's efforts.
"Eric was amazingly mature about what needed to be done, and he did it," Ward said. "It's very difficult to accomplish finishing a degree after you've been away for a while. He was very engaged with the faculty at KU and the administration and the College of Liberal Arts and Sciences and those advisers. He knew exactly what he wanted to do and set some goals and timelines to get it done.
"He could have transferred his KU hours somewhere else. He was adamant his degree was going to come from the University of Kansas."
Chenowith — who is ranked fourth in blocked shots, fifth in rebounds and 28th in scoring in KU hoops history — said this accomplishment ranks second in his life.
"Being a Jayhawk and wearing that uniform ... nothing will ever top that," Chenowith said. "This definitely feels good. It took me 14 years, but I got it. A lot of guys go to college 14 years. They are called doctors."
Who knows? Armed with his bachelor's degree, Chenowith someday might elect to pursue an advanced degree while working as an assistant coach at some yet-to-be-determined university.
"My dream job is anywhere I can believe in the university and the program. I want to go somewhere I'll feel passion, whether in Kansas or Florida or Michigan or wherever," Chenowith said, noting he'll always have a soft spot for California where he lives in a house in Corona del Mar off Newport Beach.
"I think I would be a good big-man coach. I went to Pete Newell's big-man camp three times. I've studied the game. Any time I've been around other big guys, I've sought them out and gotten knowledge from them and tried to learn as much as I could. I think I'll continue to learn. I'll always want to learn more about this game."