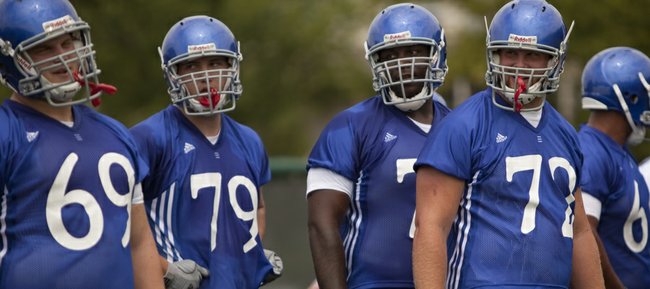 When reflecting on last season, Kansas offensive-line coach J.B. Grimes said there was one area his unit needed the most improvement.
"We gave up far too many sacks a year ago," Grimes said Sunday night. "There's no question about that."
Last year, KU allowed 3.1 sacks per game, ranking last in the Big 12.
After watching film, Grimes said most of the breakdowns were either technique errors or offensive linemen simply getting beaten by talented defenders.
In his second year at KU, the coach believes that his players will benefit from already knowing the team's terminology.
"A year ago at this time, I was talking in French," Grimes said, "and they were hearing in German."
Hawkinson on ESPN list
On Friday, ESPN's Bruce Feldman released his losing-record all-star team, made up of "some of the best players around the country who play for teams that probably won't have winning records in 2011."
Kansas junior Tanner Hawkinson was selected as one of the five offensive linemen on the list.
In the article, Feldman wrote: "An all-state tight end and defensive lineman, Hawkinson has emerged as an excellent O-lineman in the Big 12, starting 24 straight games at left tackle for the Jayhawks."
Hawkinson, who was named a freshman first-team All-American by three publications in 2009, was moved to right tackle in the offseason — a switch Grimes said was made to try to correct bad habits Hawkinson had developed at left tackle.
"It's really been a positive move for him," Grimes said. "He's a young guy that was thrown into a situation as a freshman with (KU quarterback Todd) Reesing here. To be quite honest with you, Todd Reesing, I think, got Tanner out of a lot of trouble. That guy was a magician."
Baby Jayhawks
Grimes commented Sunday on KU's youth.
"I think this is my 35th season to coach. This is the youngest football team I've ever been associated with," Grimes said. "I've never seen a football team younger than the one we have right now.
"Count 'em up. I think there's either 59 or 60 sophomores, freshmen and guys that just came out of high school. We've only got 85 scholarships now, guys. Do the math. I mean, it is a young team."