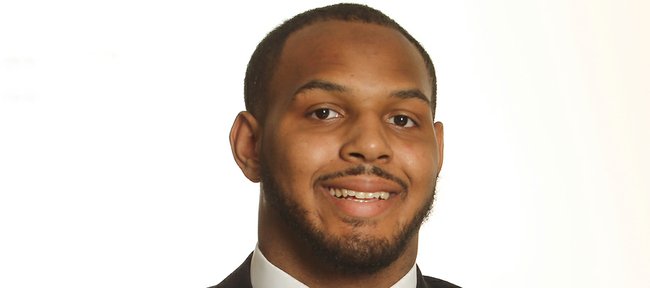 After enjoying a spring in which he was both cancer-free and one of the stars of the Kansas University football team's annual spring game, sophomore defensive end D.J. Marshall has elected to call it a career.
Marshall, of Mesquite, Texas, was diagnosed with Hodgkins Lymphoma in 2009. After a private battle with the disease that included regular trips to Tulsa, Okla., for treatment and a lot of support from his Jayhawk family, the 6-foot-3, 240-pound defensive lineman officially was declared cancer-free last November. He joined his team for the final week of practice and used that momentum to deliver a strong spring. In the spring game, he made back-to-back tackles for losses, including a sack, and also was honored at halftime for his courage and grace in the fight against cancer.
At the end of spring drills, Marshall was in the mix for playing time. At the end of Monday's practice, his college career was over. KU coach Turner Gill made the announcement.
"D.J. Marshall has decided to end his football career," Gill said. "He will remain at Kansas as a student, while completing his degree in Africa/Africa-American Studies. (He) remains in remission."
The loss of Marshall likely will hit the Jayhawks more mentally than physically. Although their defensive line has question marks, it features plenty of young talent that should be able to overcome Marshall's departure. Filling the void he provided as an inspirational figure could be tougher.
There's no question that the decision to step away from the game he loved weighed heavily on Marshall's mind. In April, following the spring game, Marshall mapped out the path he believed he could take.
"I hope to see my name on the short list of names when people look at Kansas football," he told the Journal-World's Tom Keegan. "I want to be one of the names teams think about when they play us. I want to try to introduce my legacy as a football player, not just my situation."