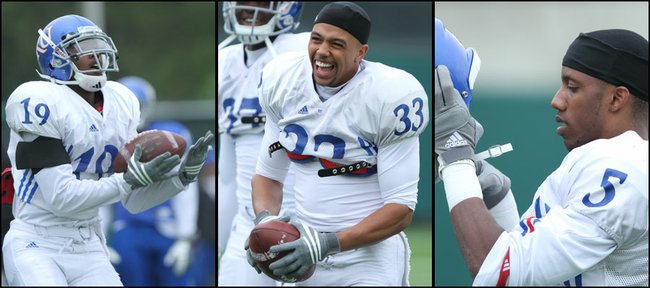 Reader poll
Quarterbacks

2%

18 votes

Running backs/fullbacks

72%

439 votes

Receivers

6%

39 votes

Offensive line

14%

88 votes

Tight ends

4%

25 votes
609 total votes.
If the 2010 season had been three or four games longer, Kansas University cornerbacks Isiah Barfield, Greg Brown and Tyler Patmon might have been in the running for all-conference honors.
Instead, the improvement those three players made from the season opener to the end of the season was something they carried with them into the offseason as they continued to work to improve at a rapid pace.
Early in the year, all three players went unnoticed. Inexperience and the challenge of slowing down some of the nation's top offenses undercut their confidence, and KU's pass defense suffered.
But about midway through the season, something clicked for the three players, and the Jayhawks' secondary started to look a little more stout.
Brown became nastier, physical enough to spar at the line of scrimmage and fast enough to sprint with receivers down the field.
Barfield became tougher, not afraid to lower the boom with a big hit or stick his head in to support the run.
And Patmon became a playmaker.
It took time for that to develop, in part because the players were learning a new system and adjusting to a new coaching staff. This year, the Jayhawks, who struggled to create turnovers in 2010, expect to jump in where they left off.
"We're gonna be a little more aggressive," KU coach Turner Gill said.
That attitude, along with the improvement shown by KU's big three, landed Brown, Patmon and Barfield in the top three spots in the Journal-World and KUSports.com's rankings of this team's top cornerbacks, a tougher task than at most positions.
The reason? In addition to a little experience, the Jayhawks now have speed in the secondary, as well.
Several incoming freshmen showed up on campus determined to play, a luxury that, if they can prove they belong on the field, would give KU solid depth at this spot for years to come. Regardless of how quickly they can crack the lineup, Gill has said he's thrilled with the group's potential.
"It's just great to have athletes like that on the field," he said. "We're looking for guys that can make plays. Ultimately, that's what it comes down to."
Here's a look at our opinion of KU's top options at cornerback.
Matt Tait's list
Greg Brown: Was playing at an All-Big 12 level at the end of 2010. Can he pick up where he left off?
Tyler Patmon: Bona fide playmaker who has star potential if he can do the little things as well as he does the big ones.
Isiah Barfield: All that experience should lead to confidence right out of the gate.
Chris Robinson: Small for now, but has enough speed to get on the Corners field and stay with receivers.
Anthony Davis: Continues to improve each year and is now experienced enough to be relied upon.
Tom Keegan's list
Greg Brown: If Toben Opurum's not the most talented player on the defense, then fleet Brown is.
Tyler Patmon: Makes big plays, but must continue to improve at preventing them.
Isiah Barfield: Improved during course of 2010 season.
Anthony Davis: Experience makes him valuable reserve.
Corrigan Powell: Needs to improve to get in games.
Jesse Newell's list
Greg Brown: Impressive end to the season included interception against Missouri, forced fumble against Iowa State and 10-tackle game against Nebraska.
Tyler Patmon: Must have had poor spring to move down on depth chart; one of KU's best defensive playmakers in 2010.
Isiah Barfield: Tied for team lead with two interceptions last year.
Anthony Davis: Picked up playing time as the year went on; had four tackles in two of last three games in 2010.
Chris Robinson: Not sure if he'll be the best of the incoming freshmen, but his speed will give him a chance.
Journal-World Consensus Top 5 Cornerbacks
Five points awarded for first, four points for second, three points for third, two points for fourth and one point for fifth.
Greg Brown (15)
Tyler Patmon (12)
Isiah Barfield (9)
Anthony Davis (5)
Chris Robinson (3)
Others receiving vote: Corrigan Powell (1).
More like this story on KUsports.com