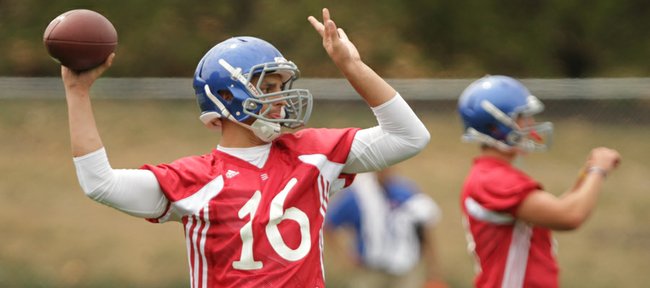 Thursday's first practice of the season marked the first time Kansas University offensive coordinator and quarterbacks coach Chuck Long had the opportunity to work with freshmen QBs Brock Berglund and Michael Cummings.
As much as he enjoyed the chance to see the two three-star prospects up close, Long said one day was not nearly enough time to make a true evaluation on either player.
The most telling moments will come in the next few practices.
"We'll see how much they can comprehend, see how much they know, see how much they can consume and retain," Long said. "Those are the big things with young quarterbacks. If they make a good throw, can they make the same throw or do they forget about it and misread it?"
Thursday, teammates and coaches said both players did enough to show why they were ranked so high coming out of high school.
At 6-foot-4, 205 pounds, Berglund is the bigger of the two, but Cummings, at 6-foot, 196, also possesses decent size.
The biggest thing both players bring to the roster is the ability to make plays with their arm and their legs.
A couple of Jayhawks said Berglund and Cummings showed that Thursday, but most of the day was spent throwing the ball and demonstrating how much of the playbook they had learned.
With things only getting more intense in the coming weeks, Long cautioned about making a read too soon.
"This (was) Day One and Base One defensively, too," Long said. "They see very simple things for a while."
Because of the team's overall experience and renewed focus, the simple stuff might not stick around as long as it did a season ago. Long said that would be by design.
"We ran a lot of football plays today," he said Thursday. "We taxed 'em really good. Our pace was good, much faster than the first day last year, and that's gonna help us. Hey, it's gonna be a tough camp. It really is. We're giving them a lot. They gotta fight through it. There's gonna be that mental strain. It's coming."
So, too, is a heavy dose of the offense.
"We're gonna have a lot of our offense installed early," Long said. "It's the flood theory. Flood 'em early, and then repeat, repeat, repeat and see how much they can pick up."
TE Putoff out 6-8 weeks
Gill announced Friday that tight end Justin Putoff, a sophomore from Goddard, would miss up to two months because of an injured clavicle.
Gill also announced the addition of Scott Baron, a freshman tight end from Orange Lutheran High in Santa Ana, Calif.
The addition of Baron, 6-foot-2, 238 pounds, gives KU depth behind returning tight ends Tim Biere, Ted McNulty, Jimmay Mundine and Trent Smiley.
Young receivers impress
It might have been just one day, but freshmen wide receivers JaCorey Shepherd and Marquis Jackson demonstrated right away they were here to play.
"They looked good today," Long said. "Both are very smooth. JaCorey runs smooth routes, and you can tell he's been coached well, and Marquis, he'll give you that explosion. Both are very eager guys who want to learn. If you're an older receiver on the team, you better pick it up. We recruited very well, and we've got some talent. They're gonna keep plugging along, and these other guys need to make sure they're competing as well."
It wasn't just the coaches who were impressed by Shepherd and Jackson. Red-shirt freshman running back Brandon Bourbon cited Shepherd as one of the guys who stood out to him.
"I saw a little move he put on somebody, and I was just, like, 'Wow,'" Bourbon said.
That notion is in line with what many around the program have said all summer as Shepherd already has established a reputation as a guy who's tough to cover one-on-one.
More talk of the 3-4
There has been a lot of speculation in recent weeks that the Jayhawks might play more of a 3-4 defense that employs three linemen and four linebackers instead of four linemen and three linebackers they did a season ago.
In Dallas, Steven Johnson said new defensive coordinator Vic Shealy told the team in mid-July that it would run a 3-4 base. Thursday, junior defensive tackle John Williams echoed Johnson's thoughts.
"It's definitely 100 percent," he said. "We've switched up everything, so it's a whole new ballgame for us. We're getting it down quickly, and it's not too bad. They've just adjusted some stuff."
KU coach Turner Gill has said the 3-4 would be in the Jayhawks' repertoire this season, but has not said definitively that it would be the team's base look.
Last year, the Jayhawks operated out of a 4-3 base defense.
The year before that, former KU coach Mark Mangino elected to go with a 4-2-5, which put one more defensive back on the field in an effort to slow down the Big 12's spread offenses.
If the Jayhawks do play a lot of 3-4, it's likely because of the talent and depth they've developed at linebacker.
"I'm excited about that group of guys," Gill said of his linebackers. "We definitely have a group to choose from, whereas last year, we didn't really have a whole lot to choose from."