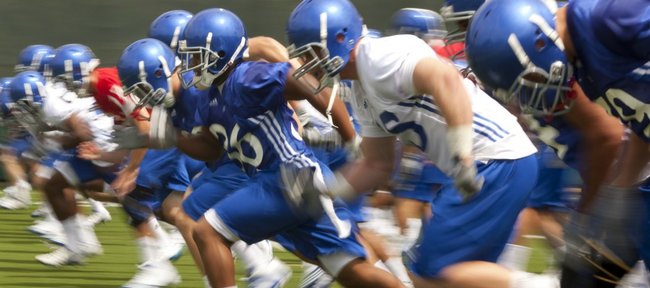 Videos
2011 Kansas football practice: Day 1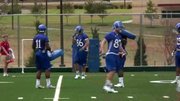 The Kansas football team practiced for the first time of the 2011 season on Thursday, August 4.
Photo Gallery
KU Football Practice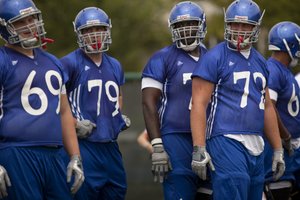 Images from the Jayhawks' first practice on Thursday, Aug. 4, 2011.
The first day of fall football practice is different for every player just about every year.
That held true Thursday, when Kansas University's football team ran through its first official practice of the 2011 season, determined to move forward and leave behind the painful memories of last year's disappointing season.
A small sample size of Jayhawks illustrated that first practice meant different things to do different guys.
But one belief all of them shared was that this year's camp was going to be much different than last year's.
That much they learned right away.
"Camp's gonna be brutal," senior wide receiver Daymond Patterson said. "Guys are competing at every position, and a lot of guys have that experience under their belts, and we didn't have that last year. We've all been in the fire together, and the whole competition level has gone up. It's a totally different level."
Patterson's run through Day One was the type experienced by the old veteran ready for one more ride. Instead of bouncing around with the eagerness of an underclassmen, Patterson seemed more focused on getting the most out of every moment.
"It is your last go, and I always tell the freshmen and the younger guys that I remember the first day I arrived on campus, and now it's my last year," Patterson said. "It's gonna be done before you know it, and you want to look back and say you gave everything you could. This was Day One, and that's one less day I've got in my career here. It's just crazy when you think about it."
Red-shirt freshman Brandon Bourbon took in Thursday's practice from the opposite end of the spectrum. Unlike Patterson, Bourbon has four years of eligibility remaining. Though he has experienced the rigors of a full season of college football, he has yet to play a down in a game. Even his opportunity in this year's spring game was taken from him because of injury, and now, as he prepares to make his second first impression, Bourbon moves forward with the same goals he had at last preseason.
"(Last year), I thought I was gonna play," Bourbon said. "And (this year) feels the same. It feels exactly that same. I have the same goals. I don't think I could come out and do all this conditioning and all this work if I didn't plan to start eventually, so that's my goal. I want to come out and eventually be the starter."
Bourbon, who injured his leg during spring ball, said Thursday he was back to 100 percent and feeling good. Taking things slowly during the recovery process was his biggest challenge this offseason.
"I've seen a lot of guys get hurt, and I knew I'd be back eventually," he said. "(After I got injured), it was kind of just like disbelief, actually. I kind of thought I'd wake up and be fixed, but then I woke up and couldn't walk to the bathroom and thought, 'Wow, this is real.' But it was just something I got used to and had to overcome."
Up 15 pounds from last year's report weight of 200, Bourbon believes he's better prepared, both mentally and physically, to compete for playing time.
"Now that I know everybody and know the rules of the road, it's much more comfortable for me," he said.
Comfort is something third-year sophomore Jordan Webb has on his side this time around.
At least a little bit.
Last year, Webb entered camp in the middle of a quarterback battle he ultimately lost, only to watch as things turned in his favor after the season opener.
That experience, along with a year of maturity and improvement, has given Webb a new outlook on things as he heads into this year's camp with a slight lead over senior Quinn Mecham and the rest of the KU quarterbacks for the starting job.
"It's something you just have to take with a grain of salt," Webb said of Gill's statements that if the team were to play today, Webb would be its starting QB. "After last season, I know that anything can happen. Quinn's right on my tail, and we've got some good young guys. You just gotta go day-by-day and try to get better each day."
Although there's still a long way to go, Webb said he was impressed by a lot of what he saw Thursday.
"We didn't have the pads on, but we really stressed physicality," Webb said of the offense. "If we continue to get better physically, we'll be able to run the ball more, and that'll set up the passing game. On defense, they were really running to the ball. They were out there flying around, trying to make plays, and they looked a lot faster. I'm all for it."
Offensive coordinator Chuck Long said repeatedly that Webb had a great day, and Gill said he, too, liked what he saw from last year's leading passer.
"I thought he was pretty sharp. He looked confident. He was getting balls where they need to be," Gill said of Webb. "When we have our check-downs, he's able to go there in a fairly quick manner, and I saw him do that out there today. He definitely looked sharp."
But Webb's solid showing was just one of the many things that had Gill fired up about his team's opening day.
"I was definitely excited to get a chance to see our players go out and perform," Gill said. "And I really was excited about how they came out and had great focus, showed some passion and showed some resolve in the heat. I think it showed that our strength staff, our training staff and our players did some good things as far as having them in good shape to come out and perform at a high level."
Patterson said that was no accident.
"Last year, we were (working) just to do it, and this year we're doing it to get better," he said. "We know what 3-9 was like and what you do when you're 3-9. We don't want to go through the same thing again."
The Jayhawks will return to the practice fields this afternoon.
More like this story on KUsports.com