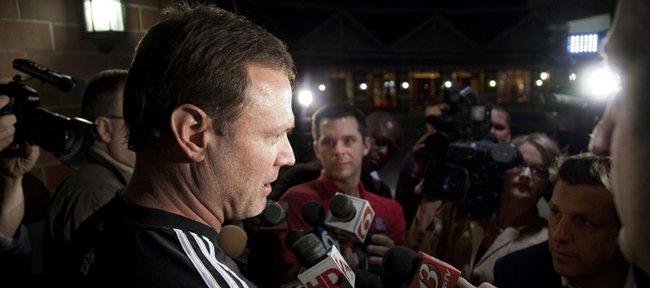 Document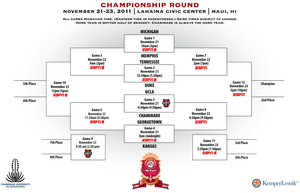 Kansas University's basketball team will play Georgetown in a first-round Maui Invitational contest at 11 p.m. Central time Monday, Nov. 21, at Lahaina Civic Center, ESPN announced Thursday.
The Jayhawks would face UCLA or Chaminade in either a winner's bracket or loser's bracket game on the following day. Other first-round games match Duke against Tennessee and Michigan versus Memphis.
"The Maui field is good every year, but this year it's exceptional," KU coach Bill Self said Thursday — a day that also included the release of KU's Big 12 Conference slate of games. "We play Georgetown. Their style is totally different. The rest of the field — with UCLA and Chaminade on our side and, with Duke, Tennessee, Michigan and Memphis — certainly makes for the best field any tournament will have this year."
Several national pundits have said ESPN would love a KU-Duke matchup in the Maui final.
"The field is ridiculous," said Larry Keating, KU special assistant to the athletic director in charge of scheduling. "It's been called the toughest field the tournament has had. Bill and I talked about it a number of times. There's no easy game here.
"Chaminade is considered the only easy game, and even that's always a risk," Keating added, well aware the NCAA Div. II school beat Oklahoma last year.
As far as the Big 12 schedule, the Jayhawks will open against Kansas State on Jan. 4 in Allen Fieldhouse. After that, KU plays at Oklahoma and Texas Tech before returning home to face Iowa State and Baylor.
KU and Texas, the two winningest programs in Big 12 history, will meet twice in the regular season for the first time — at 3 p.m. Jan. 21 in Austin on CBS, and at 8 p.m. March 3 in Allen Fieldhouse on ESPN.
ESPN has yet to announce its College Gameday schedule this season. KU currently has a pair of night games on Saturdays on ESPN — Feb. 4 at Missouri, to go with the UT game.
"I believe this is the hardest schedule we have played since I've been here," ninth-year KU coach Self said. "Our strength of schedule and RPI have been in the top 10 almost yearly, but this will be the hardest schedule not only because of Kentucky (Nov. 15 in New York), the three games in Maui, South Florida (Dec. 3, Allen), Ohio State (Dec. 10, Allen), Long Beach State (Dec. 6, Allen), Davidson (Dec. 19, Sprint Center) and USC (Dec. 22 in Los Angeles), but on top of that you play everyone in the Big 12 twice, which makes the league that much harder."
Of the schedule, Keating said: "I like it. Obviously, it's difficult. It sort of evolved on us. We'd committed to Maui years ago. Then a chance to play in the Champions Classic (vs. Kentucky this year) came up. To go right to Maui theoretically gives you four big games in a row. We had the opportunity to play Ohio State after talking to them over the years. It sort of all fell into place. The thing is ... the guarantee games are good games — Long Beach State and Florida Atlantic won their leagues last year. We play South Florida, USC. These are all good teams."
Self, indeed, is willing to take on all comers.
"We know that this is going to be a young team, much like that team was the year after we won the national championship," Self said. "We know we're going to have to grow up fast but this should be a great way to force us to do so."
Schedule notes
Georgetown finished the 2010-11 season with a 21-11 record and advanced to the NCAAs for the fifth time in seven years under coach John Thompson III. The Hoyas went 10-8 in Big East games. Georgetown loses standouts Chris Wright and Austin Freeman ... KU's schedule features at least 11 games against teams that played in last year's NCAA Tournament and at least 19 games against schools that were in the top-100 of last year's RPI rankings. ... KU will play two games on CBS and 21 games on the ESPN family of networks, which include four Big Monday appearances and two ESPN Saturday prime-time games. ... Four KU games will air on the Big 12 Network, while three will be shown on the in-state Jayhawk Television Network. The Big 12 Network and JTV contests will be available nationally on ESPN's Full Court package. ... KU's ESPN Big Monday contests will be Jan. 16 against Baylor, Jan. 23 against Texas A&M;, Feb. 13 at Kansas State and Feb. 27 at Oklahoma State. ... KU will play 24 games against schools from BCS conferences — two from the Big East, one from the Big Ten, one from the SEC, one from the Pac 12, one yet to be determined in the Maui Classic and 18 from the Big 12. ... Kentucky leads the all-time series against KU, 19-6. KU has won three in a row versus UK. ... KU is the only school in the Big 12 to have a winning series record against every conference team in men's basketball.