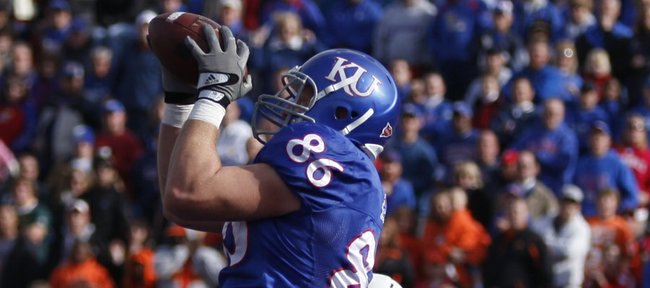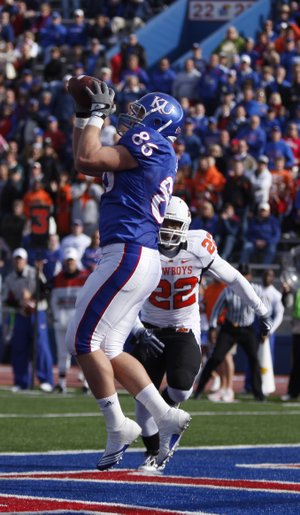 By now, Kansas University football fans are well aware of how to pronounce senior tight end Tim Biere's last name.
It's "BEER-ee," of course, but for the first couple of years the Omaha, Neb., native was in Lawrence, he heard a handful of mispronounced versions. Beer, BEER-ray and be-YEAR-ee were tossed out as possible pronunciations until Biere's play on the field inspired people to learn how to say it correctly.
The interesting thing about those mispronunciations, especially the first one, is that Biere's name actually means beer in some languages.
"I'm not really sure of the history," said Biere, who admits he's no brewmaster. "I know it means 'beer,' and I've known people who've studied abroad and come back and said they've seen it everywhere. People say they've seen it in France, but I don't think I have any French in my background."
According to ancestry.com, the name Biere is a variant of the German surname Bier, meaning ale.
Back home in Omaha, Biere's mom has a handful of beer posters hanging in the family's basement, each of which has the word/surname on it to celebrate their heritage. While Biere was exposed to the meaning of his last name at an early age, he said recently that he'd still like to do some digging into the family tree to learn a little more about its history.
Learning more about Biere's game is not necessary for those who have followed KU football for the past few years. Pegged as an athletic and reliable pass-catching tight end when he arrived in 2008, Biere has done nothing but back that claim up during his Kansas career. He arrived as the 19th-best tight end prospect in the nation, choosing KU over offers from Nebraska, Colorado State, Kansas State and Ohio.
Although the statistics he has racked up during his first three seasons at KU — 476 yards and four TDs on 39 receptions in 35 games — have not brought to mind names such as Shannon Sharpe or Tony Gonzalez, Biere's production has been notable and his improvement steady in all areas.
While the coach who recruited him proved he understood that by putting Biere on the field as a true freshman, the coach who inherited him has done so with words.
"Tim Biere has stood out from a consistency standpoint," KU coach Turner Gill said in April. "He's good at blocking and catching the football, and he is playing with passion. That is really what I like to see."
Three years ago, Biere arrived in Lawrence during one of the highest points in KU football history.
The Jayhawks were coming off of a 12-1 season and an Orange Bowl-championship run, and Biere expected similar results throughout his career.
During his first season, in which he played in 12 games and caught six passes for 65 yards from Todd Reesing, arguably the greatest QB in KU history, the Jayhawks advanced to the Insight Bowl and pounded Minnesota for their second bowl victory in two seasons.
The future was bright, and Biere was loving life.
But then the bowl appearances were put on hold. KU hasn't been back since. With just one season — 12 guaranteed games, if anything in college football can be guaranteed — remaining in his career, Biere wants one more run at the postseason more than anything else.
"Honestly, going to a bowl game would end it on a good note," Biere said last week at Big 12 media days in Dallas. "We went to the Insight Bowl my freshman year, and bowl games are an awesome experience. The last couple years have been pretty tough. Last year, we won one game in the conference. The year before that we won one game (in Big 12 play). So to be competitive and to win six games, that would mean a lot to me as a senior."
With KU picked to finish 10th in the 10-team Big 12 and facing one of the toughest schedules in recent memory, many might choose to roll their eyes or even laugh at Biere's goal.
But he's not worrying about what anyone else thinks and, true to his team's slogan, he believes that capping his career in a bowl game is within reach.
"I definitely think it's possible," Biere said. "Especially when you look at how spring ball went this year compared to last year. Spring ball this year was 10 times better than camp last year, so there's going to be drastic changes."
Biere and the Jayhawks officially report to preseason camp Wednesday. KU opens the season Sept. 3 against McNeese State at Memorial Stadium.
More like this story on KUsports.com