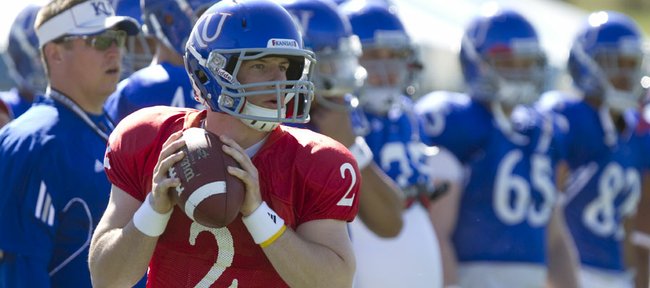 At last year's annual spring game, Kansas University quarterback Jordan Webb was in the middle of a battle for the starting QB position and took the field hoping to make the kinds of plays that would wow the coaches and inspire them to pick him as their starter.
A year later, Webb enters Saturday's spring game — 1:30 p.m. at Memorial Stadium — with a much different mind-set even though he's in a similar position.
"Really, you just have to treat (the spring game) like it's a practice and try not to press for things," said Webb, who again finds himself competing for KU's starting quarterback job. "It's the first time you are in front of a bigger crowd, so you are gonna want to make plays, but you just gotta stay within the system and work the offense."
According to teammates, that has been a strength of Webb's this spring. Last year, as a rough-edged, red-shirt freshman getting his first feel for Saturdays, Webb often found that he knew the right play but pressed too hard and made the wrong one. The gambler attitude resulted in a roller-coaster season in which Webb threw for 1,195 yards and seven touchdowns but also eight interceptions in nine games.
Asked recently which Jayhawks had stood out to him this spring, KU receiver Christian Matthews did not hesitate to give props to his QB.
"Probably Jordan Webb," Matthews said. "He's growing up and he's getting the ball to us. We don't see many bad balls from him. He knows what he's doing, he's not trying to force anything and he's just making the good plays. (Offensive coordinator) Coach (Chuck) Long, I mean, you just need a year with him."
Webb, now a third-year sophomore, admitted that he was much more relaxed on the practice fields this spring compared to the way he felt a year ago. He also agreed with Matthews and said learning to stay within the system was a major focus of his this offseason.
"My grading in the scrimmages and throughout practice has really shown that," Webb said. "It has a lot to do with (being comfortable) in the offense and just knowing what the coaches want and just trying to execute that."
KU coach Turner Gill has seen that pay off for both Webb and senior Quinn Mecham.
"When you have experience, you are going to be a lot more comfortable," Gill said. "You know what the expectations of the coaches are and that makes the offense a lot easier to execute."
One thing that might make it more difficult will be the added pressure of Saturday's game-like atmosphere that will invade Memorial Stadium. But Gill said he expected the spring-game setting to inspire his players.
"Our guys will be ready to play in front of our fans and give them a preseason opportunity to see where we are at," he said.
Though he expects the competition at quarterback to continue into August — when freshmen QBs Brock Berglund and Michael Cummings join the squad — Webb has been pleased with his performance this spring and hopes Saturday will give him a chance to show people how much he's improved.
"I think I've played pretty well," he said. "There's always room for improvement and you just have to keep competing. Just having people in the stands will make it feel different, but you just want to go out and give them a good show and play your best."
While many eyes will be on Webb and the other quarterbacks Saturday, there also will be plenty of other areas to keep an eye on. Here's a quick look:
Offense versus defense
Gill confirmed Friday that the teams will keep score in Saturday's game, though there will be no clock. Instead, KU will run between 80 and 85 snaps, with a halftime being taken around the 40-snap mark.
The two squads will be mostly distinguished by their offensive linemen. The blue squad will have the first-team offensive line, while the white squad will have the second-team offensive line.
Also, the two teams will split up on the two sidelines, with the offensive coaches going on the blue sideline and the defensive coaches staying on the white sideline.
Though the offensive lines will stay consistent on each team, Gill said all of the other position groups would be interchangeable.
"The reason for the format we have ... we really don't have quite a few of the defensive tackles," Gill said. "We've only got four guys going. We've got to be able to give them a break."
Out with injury
Gill said Friday that defensive tackle Patrick Dorsey, defensive end Kevin Young, cornerback Isiah Barfield, offensive tackle Riley Spencer and wide receiver Daymond Patterson would not play in the spring game because of injuries.
Beware of the Wildcat
KU has worked much more this spring on its offensive packages known as "Jayhawk" and "Wildhawk," sets that involve a direct snap to a wide receiver or a running back. Though coaches typically don't like to show too much during spring games, this could be a major part of the KU offense this season and it may be run a little Saturday.

Newcomers galore
At the top of the list of newcomers to watch for is Blue Springs, Mo., running back Darrian Miller. Miller, who wears No. 3, has had a solid spring and will look to keep that going in front of fans at Memorial Stadium.
KU senior linebacker Steven Johnson said Friday that Miller "knows how to slip through little creases" and admitted he'd missed a few tackles on the freshman in the spring.
"After practice, I stare at him," Johnson said with a smile. "He knows that I hate it, but I've gotten a few on him, too. It's a battle between me and him. But he's a great player, and I'm looking forward to seeing what he can do in the spring game."
Though Miller will be the easiest of the newcomers to spot, there are a few others who warrant attention. Also keep an eye out for linebacker Malcom Walker (44), defensive tackle Pat Lewandowski (91), offensive lineman Dylan Admire (75), defensive end Julius Green (99) and wide receiver Connor Embree (89).
The need for speed
The KU coaching staff identified adding speed as its biggest need this offseason. Although not all of the new wheels will be on the field Saturday, there is a reason to watch the increased quickness that the Jayhawks possess this year. This is particularly true on defense, where the linebackers and secondary both have looked faster throughout the spring.
Celebration status
It won't matter much Saturday, but it will be interesting to get a look at how the Jayhawks handle the celebration situation on touchdowns. A new rule in college football this year says that any player flagged for unsportsmanlike conduct before crossing the goal line will jeopardize the score. KU quarterback Jordan Webb said the team had been informed of the rule change and cornerback Greg Brown offered up an alternative for how to celebrate.
"How about I just hand the ball to the official and then go do a dance behind the bleachers," Brown said.
Up for grabs
Few starting spots will be won or lost based on the results of Saturday's game, but there is one position in which the pecking order could become a little clearer based on who performs best on the big stage. That position is wide receiver, where as many as 10 receivers could be given a chance to make plays Saturday. Daymond Patterson, the team's leading receiver in 2010, will sit out because of injury, and that opens the door for someone to step up. Those expected to run the routes Saturday: D.J. Beshears, Connor Embree, Ricki Herod, Chase Knighton, Christian Matthews, Brian Maura, Erick McGriff, Chris Omigie, Kale Pick and Andrew Turzilli.
KUSports.com online editor Jesse Newell contributed to this story.