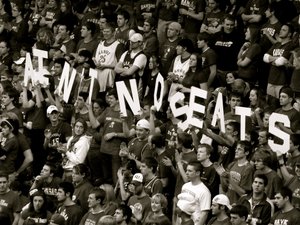 Letter carriers
These people helped hold the letters high during at least one game this season. Most are KU students, but some are family members, old and young, of other members of the group:
Sky Kurlbaum, Nicole McClure, Nick Howard, Fur Finley, Adam Trunnell, Grant Metsker, Tanner Claxton, Haley Harrington, Courtney Sheldon, Shelbi Hall, Ashley Gough, Ashley Colip, Meagan Mason, Adam Miklos, Monte Jones, Bret Province, Morgan Cheeseman, Cameron Lampe, Jimmy McClure, Max Kurlbaum, Cecilia Kurlbaum and Anne Foster.
Feature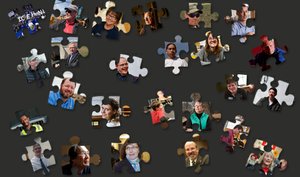 A special section honoring your neighbors, unsung heroes and people who do the little things that just make life better in Lawrence.
Feature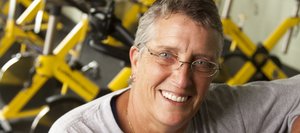 Read about the honorees for the 2011 Only in Lawrence: "Sports" category.
They say a dollar doesn't get you quite what it used to. But, at Kansas University, $30 can get you national exposure.
That's what it cost for a group of KU students and diehard Jayhawk basketball fans to throw together a bunch of foam-board, cutout letters that they took to every home game throughout the season.
Little by little, the slogans these superfans put up at different points throughout games started to garner attention. At first, photos of their witty sayings appeared in newspapers and on websites based in Lawrence, Topeka and Kansas City. Eventually, the group found itself and its version of "SportsCenter Is Next," on ESPN's popular highlight show following a game.
"That's the pinnacle of fandom," said senior Nicole McClure, one of the key members of the group.
The whole concept began a couple of seasons ago, when an anonymous group showed up at Allen Fieldhouse with enough white letters to spell out the famous Sherron Collins quip, "Ain't No Seats."
This group, which can exceed a dozen students or be as small as three or four, depending on the day, remembered seeing those letters and thought they'd try to carry on the tradition while expanding on it at the same time.
"I don't know exactly what the saying is, but it's something like, 'Imitation is the highest form of flattery,'" said junior ringleader Sky Kurlbaum.
The group takes that same attitude when it spots other letters in other areas of the Fieldhouse.
"For us, it just adds to the atmosphere," Kurlbaum added. "If Markieff gets a dunk, we'll put something up and then you'll see 'Markieff' pop up over there."
While several groups have tackled the Scrabble-style display of support, few have done it with the kind of precision, dedication and thoroughness of Kurlbaum and McClure's group.
Their first endeavor in the business came during freshman Josh Selby's first game, Dec. 13 against USC. For that one, the group simply held up "Showtime," paying homage to Selby's nickname. Talk about prophetic, Selby poured in 21 points in that one, including the game-winning three-pointer in the waning seconds.
While the thrill of the game was enough to get their blood pumping, the notoriety they gained for the "Showtime" sign took it to a higher level and they instantly were hungry for more.
"When we got all the foam board to make the (Showtime) letters we realized we had some extra so we started trying to think about what means a lot to us and what else we should make," Kurlbaum said. "We went ahead and made a 'Pay Heed,' and we had more board left so we were like, 'All right, what letters are really vital?' We came up with a U and an N. That was kind of the first round and then we added Rock Chalk Jayhawk to it and a few other letters just so we could do Phog Allen and stuff like that."
By the time they were finished, the crew had all but a couple of letters and a few repeats in its arsenal. In all, Kurlbaum and McClure haul in two black trash bags full of the 2-foot tall letters each game. The oversized load makes it tough to land prime seats, but it doesn't do anything to hinder their expedience. As soon as a good idea is verbalized and accepted, McClure and Kurlbaum quickly start divvying up the letters.
"She has all the vowels in front of her with the exclamation point and the dashes, and I have all the consonants," Kurlbaum said. "So whenever we think of something I just start grabbing all the consonants, she starts grabbing all the vowels and we hand them down and they get 'em up. It's really a pretty quick system."
Part of the reason for the rapid flow can be attributed to the group's ingenuity. Instead of wasting time and space by having all of the letters, they find creative ways to get the job done. N's become Z's, F's are turned into E's by adding a dash to the bottom, and crimson-and-blue-colored hands have been used to eliminate portions of other letters in the interest of saving time.
As for the phrases that have special meaning for the group, there were several highlights. A popular one was "Nice Hands Bill" after KU coach Bill Self caught an errant pass on the bench, while "OSU Lost!?" and "KU's Number One" both popped up during a Kansas victory against Iowa State that tipped off shortly after Ohio State lost to Wisconsin. There was one, however, that seemed to be the unanimous pick for top dog.
"I think 'Hook 'Em Corns' was probably the best one," Kurlbaum said. "That was an on-the-spot thing. We didn't really think Nebraska would beat Texas, but when we saw it happening, we thought, 'All right, we gotta think of something for this.'"
Though the anti-Texas, pro-Nebraska barb was a hit, Kurlbaum made sure to point out that not every suggestion makes it into the air.
"Sometimes there's a little democracy in it," he said. "Some people will say, 'Oh, this is good,' and other people will kind of be like, 'Uhhhh. No.'"
Regardless of who calls the shots or who comes up with the phrases, the key for both Kurlbaum and McClure, and, really, the reason they plan to keep going and already have cooked up some new twists for next season remains the camaraderie.
"The whole student body is such a strong community," Kurlbaum said. "We just turn to total strangers and say, 'Hey, help us hold these up.' And they'll just be like, 'Cool.' It's great."