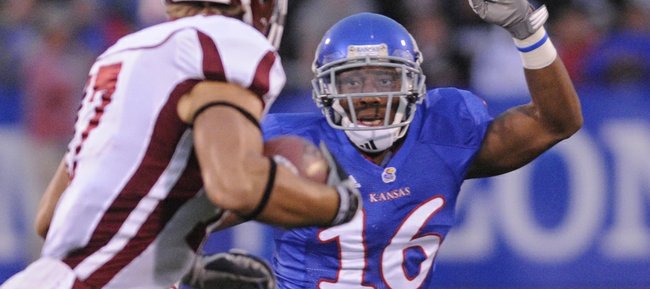 Although no Jayhawks are expecting to hear their names called tonight, when the 2011 NFL Draft kicks off in prime time at 7 p.m., the arrival of the first round of the annual pro draft brings with it a mixed bag of emotions for a handful of former Kansas University football players.
"It's kind of a little of both," said cornerback Chris Harris when asked if he was more excited or nervous. "It's kind of hard not knowing where you're going to be at. I'm hearing from teams every day and I've had a lot of good contact, but that still doesn't mean anything."
Harris, a four-year starter at KU, is one of a couple of Jayhawks with an outside shot at being drafted in the seven rounds and more than 200 picks that will be made this weekend. Round 1 will take place tonight. Rounds 2 and 3 will begin at 5 p.m. Friday and the final four rounds will take place starting at 11 a.m. on Saturday.
Harris' best shot at landing in the NFL comes in the form of his versatility. Because of his size — 5-foot-9, 194 pounds — and ability to play multiple positions — Harris played both cornerback and safety at KU — teams with a need at both defensive back spots could see Harris as a solid option. The Bixby, Okla., native has heard from plenty of teams throughout the last several weeks, and those who seem most interested include: Denver, Indianapolis, Jacksonville, Kansas City and Pittsburgh. Still, despite the dozens of phone calls Harris and his agent have fielded in recent weeks, the former Jayhawk, who will watch the draft in Oklahoma with his family, isn't holding his breath on hearing his name called during the draft.
"That's definitely always been my goal," Harris said. "That's why I've trained and worked so hard. I've done everything I could. I came to KU, played all four years, had a good pro day, I don't have any character issues. Now it's just wait-and-see."
Harris continued: "It's up in the air, man. Some of the teams I've talked to have told me that I'm on their radar and I'm pretty high on a couple of their boards, but you just never know how it's all going to play out. I know at the end of the day I'm going to be somewhere, playing, working out and getting my shot."
A few other former Jayhawks expect the same, with offensive lineman Brad Thorson, defensive end Jake Laptad, wide receiver Johnathan Wilson and punter Alonso Rojas representing the most likely to wind up with an NFL team this weekend. Also hoping to get a crack at training camp are: linebackers Drew Dudley and Justin Springer, running back Angus Quigley, defensive end Quintin Woods and cornerback Calvin Rubles.
According to the NFL scouts contacted for this story, Thorson, Harris and Laptad, in that order, were listed as the Jayhawks most likely to get a shot at making an NFL roster. Most draft sites have each player pegged as a "priority free agent," but each is holding out hope that he fits the needs of that one team.
"I think on draft day, I'll be hopeful that somebody calls my name," Thorson said after KU's pro day back in March. "But I do expect to be in a camp and compete for a job."
More like this story on KUsports.com