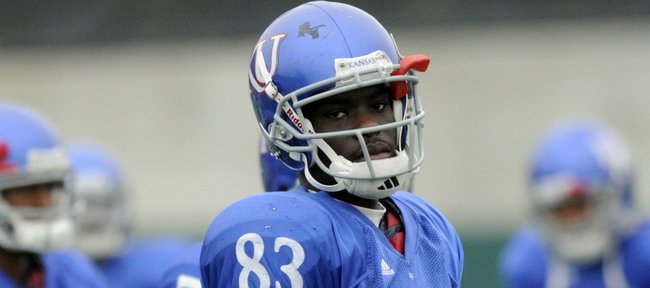 Last spring, Kansas University wide receiver Christian Matthews hauled in the game-winning touchdown catch for the blue team in the Jayhawks' annual spring game.
Wanted: No. 1 wide receiver
Kansas will have 13 wide receivers on its roster this fall vying for the title of go-to guy. Here's a class-by-class breakdown, with jersey number in parenthesis, height and weight:
Seniors: (15) Daymond Patterson, 5-9, 173.
Juniors: (20) D.J. Beshears 5-8, 174; (47) Chase Knighton 5-11, 184; (7) Kale Pick 6-1, 208.
Sophomores: (12) Christian Matthews 6-1, 186; (88) Erick McGriff 6-3, 209; (83) Chris Omigie 6-4, 194.
Red-shirt freshmen: (80) Ricki Herod 6-2, 183; (84) Brian Maura 6-4, 190; (82) Andrew Turzilli 6-4, 185.
Incoming freshmen: (89) Connor Embree 5-11, 175; (TBD) Marquis Jackson 6-0, 205; (TBD) JaCorey Shepherd 5-11, 170.
Instantly, Matthews, who, at that point, was in the middle of making the transition from quarterback to receiver, was pegged by some as the next stud receiver to play at Kansas, someone sure to follow in the footsteps of all-conference players Dezmon Briscoe and Kerry Meier.
Unfair expectations?
"Yeah, something like that," Matthews said recently.
The TD, a 37-yard back-shoulder catch on a perfect pass from then-quarterback Kale Pick, was Matthews' only grab of the game. He followed that up with just a single catch — for 41 yards — in eight games all season.
"One catch doesn't mean you're gonna do good during the season," Matthews said. "If I get a catch or whatever I do, I'm going to take that into next fall. (All of the hype) frustrates me and that's gonna make me better in the fall. Hopefully I'll come with it."
Sophomore Chris Omigie enjoyed similar success during last year's spring game — four catches for 95 yards, including a 72-yard TD grab — only to watch his big day in late April go down as his most memorable outing of 2010.
Like Matthews, Omigie was not able to parlay his spring-game success into meaningful moments during the regular season. He finished with 73 yards on seven catches in 10 games.
Now, with KU's wide receivers positions wide open, and the spring game set for 1 p.m. Saturday, Omigie and Matthews are two of the many candidates vying to become the man.
"The group as a whole is probably a deeper group than I had here before," said wide receivers coach David Beaty, who coached at Rice last season after two years at KU. "Deeper, talent-wise, in terms of the types of guys that we have. We still need to perfect our craft to try to get back up to those guys that have been All-Big 12 type players here before, and those kids understand that. They know they've got a lot to live up to, and they're working towards it."
Outside of senior Daymond Patterson, who led KU's wideouts in receptions (60), yards (487) and touchdowns (two) in 2010, the Jayhawks don't have a single receiver who hauled in more than 10 catches last season.
Junior slot receiver D.J. Beshears leads the list with 10 catches for 69 yards and a touchdown. Omigie is next with seven grabs, Erick McGriff follows with six catches for 61 yards and Pick (three for 18) and Matthews (one grab) round out the list of returning receivers who played last season. Although those numbers aren't the kind that garner much attention, Beaty says this group has talent.
Though Beshears did little in the passing game in 2010, he was one of the Jayhawks' most electric playmakers. He broke a school record with 922 kickoff return yards on 36 returns and also added 213 yards and two TDs rushing. Those numbers alone indicate that Beshears could provide a spark if the Jayhawks can get him the ball. That hasn't been a problem this spring. Beshears has benefited from extra reps in the slot with Patterson sidelined because of injury.
Of course, it was not just Beshears who received extra reps this spring. KU coach Turner Gill did all he could to make sure all of his receivers — including 2010 red-shirts Ricki Herod, Brian Maura, Andrew Turzilli and walk-on Connor Embree — got a fair chance to flash their skills.
"There are a lot of guys getting a lot of reps and opportunities to see if they can produce," Gill said. "That is what we are all about."
For the receivers themselves, the crowded quarters is nothing new.
"There's always competition at the wide receiver spot because there are so many of us," Omigie said. "Everybody wants to be the go-to guy so we're always out here working hard, competing against each other and doing our best. We're all out here going hard against the defense to show coach that we can be the guy. So the competition is really intense right now."
With just two practices remaining before Saturday, Matthews said he had identified an easy way to get noticed.

"If you don't block, then you will not play," Matthews said. "That is the biggest thing with coach Beaty."
Another way, according to Omigie, was to make key catches when called upon, something the unit struggled with in 2010.
"We talk about that a lot," Omigie said. "Our thing this year is that we are trying to show the coaches that we have that ability to make big plays whenever they give us the chance. All we have to do is prove it to them in the upcoming spring game and keep doing our thing in practice. Hopefully they will get the message."