It takes more than one quick defensive end to put pressure on a quarterback.
Photo Gallery
KU football practice: April 25, 2011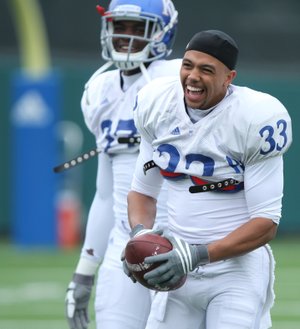 Images of the KU football team's practice on Monday, April 25, 2011.
But let's not get greedy here. This is the Kansas University defensive line we're talking about, and it's been so long since the Jayhawks have mounted much of a pass rush, it's at least encouraging to know that all signs point to one defensive end progressing to the point he'll be a handful for opposing blockers.
Toben Opurum, a running back a year ago at this time, spent his sophomore season in transition, moving first to linebacker and then to defensive end. The upbeat, smiling, confident freshman gave way to the sophomore standing behind a wall of unwelcoming vibes. After Friday's practice, Opurum's smile had returned and so had his confidence.
"Toben definitely has made a lot of strides, which is kind of what I expected," KU coach Turner Gill said. "He's a lot more smooth in what he needs as far as technique, and he's coming out with a lot more speed."
KU's most talented cornerback, Greg Brown, knows a secondary is only as good as its D-line's pass rush, so he tends to spend breaks during practice taking that unit's temperature.
"The D-line is doing much better," Brown said. "Toben Opurum is coming off the ball, jumping counts, getting a lot of sacks, two sacks a practice. He's moving, and he's moving fast. He looks just as good, even better, at D-end than he did at running back."
Opurum, a 6-foot-1, 240-pound rising junior, said he has studied a lot of tape of Texas A&M;'s Von Miller, projected to go as high as third in the NFL Draft. Miller, a pass-rushing outside linebacker/D-end in college, worked under assistant coach Buddy Wyatt for part of his A&M; career. Wyatt now is Opurum's position coach. Miller weighs about the same as Opurum and is two inches taller.
"As far as an ideal defensive end, they're usually taller than me and maybe even a little bit bigger, but with me being smaller, I'm also quicker, so while I'm not a prototypical defensive end, I'm able to get things done," Opurum said. "I'm a lot stronger than what people realize. I've got the strength of someone who's much bigger than me. Combining that with my speed, I think that makes a good combination."
Opurum said he's moving better than ever and added that he has the highest grades this spring of any player on the defense.
• KU assistant basketball coach Joe Dooley has more than a playing career at George Washington University during which he was a two-year starter and a team captain as a senior going for him in his quest to land the head-coaching position at his alma mater. He also has former KU athletic director Lew Perkins in his corner. Dr. Robert Chernak, senior vice president of student and academic support services, wields a great deal of influence at GW. Chernak and Perkins go back a long, long way, and Perkins is high on Dooley.