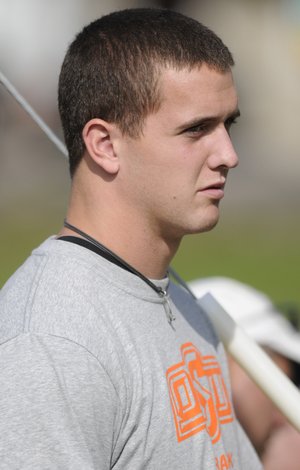 When he left the small west Texas town of Bushland to play football on scholarship for Oklahoma State, Andrew Hudson felt like the luckiest young man on earth.
Then he suffered a ruptured disc in his back that required surgery. Later, he missed six weeks because of a finger surgery. Back from that, he had a blast playing in a game against Louisiana Lafayette and was so looking forward to playing against Texas Tech. A concussion in practice kept that from happening. Oh well, at least he was back in time to play against Nebraska. In that one, the Cornhuskers' Eric Martin tagged Hudson with a helmet-to-helmet hit that resulted in a one-game suspension for Martin and left Hudson with such a severe concussion it ended his football career.
Hudson's short-term memory was so damaged he missed six weeks of school, had to drop a class and take an incomplete in a couple of others. His memory is back, but he'll never make another football memory.
"I was at a point I didn't know what I else I had to hang onto," Hudson said. "So I hung onto the lord, clinged tight to him."
A trainer on the football team handed him a newspaper story that turned Hudson from feeling like the unlucky one to the lucky one. He read about Nathan Stiles, the Spring Hill High senior who intercepted a pass in a game in Osawatomie, walked to the sideline and said, "My head is really hurting." He collapsed shortly thereafter and was pronounced dead at 4 a.m.
Hudson, who now throws the discus for Oklahoma State, told the story between throws Saturday at the Kansas Relays of how he has become so close to the Stiles family in such a short time.
After reading about the homecoming king/church choir voice/football star/loving son who died, he felt moved to contact Ron Stiles, Nathan's father.
Hudson sent him a message on facebook and ended up driving from Stillwater, Okla., to Spring Hill.
"Sir, I don't know why I'm coming up there," Hudson told Ron Stiles, who thought of something Hudson could do for his wife, Connie, when he arrived.
"He said, 'Connie has been saying, "If she could just have one more hug from Nathan," so if you came up to give her a hug, I think it would be worth the trip,'" Hudson said.
He did, and it was. Several members of the Stiles family who watched Hudson compete Saturday said they were amazed at how much he reminded them of their son, both in spirituality and mannerisms. On his first visit to Kansas, Hudson spent the night at the Stiles home, prayed with Nathan's sister Natalie in Nathan's room and shared tearful embraces upon his departure the next day.
"I'm a big guy," Hudson said. "But I cried the whole way home."
Hudson spent Friday with the Stiles family, who took him out to dinner to celebrate his birthday. He turned 20 Wednesday. Hudson can keep his scholarship as a medical hardship case, but only if he gives up throwing the discus, according to NCAA rules. He's not sure which way he'll go there, but whichever way he chooses, he'll never stop telling everyone he knows about Nathan's Project, the cause the Stiles family has started.
Donations can me made to: Hillsdale Presbyterian Church, c/o The Nathan Project, P.O. Box 61, Hillsdale, KS 66036. Every dollar goes to the purchase of "easy-to-read Bibles with daily applications," Ron Stiles said.
He said more than 2,000 bibles have been distributed, many to residents of juvenile detention centers.
Ron shared part of his recent speech to 50 or so youths who had gone astray of the law: "I started with, 'Have any of you ever had a bad day?' Then I walked them through Nathan on the football field, to him at KU Med, to him dying, to us going at 6 a.m. that morning to see his grandfather in the hospital, where he was having back surgery, and having to tell him his first grandson had died. Their bad day got better. I said, 'What's important? How are you going to handle a bad day?'"
The Stiles have handled a "bad day" remarkably well, but that doesn't mean they don't still experience bad days.
"It's been quite a journey," Ron said. "Getting to know Andrew's been a good part of the journey."
Ron talked about how his son was thinking about not playing football his senior year and then decided to play.
"Natalie and Nathan were extremely tight," Ron said. "And Connie ... it's been a struggle. Blessed are they that mourn, they'll be comforted. And, boy, we need the comfort sometimes because there's a lot of mourning. We sure miss him, but it's created an opportunity to do some things."
More like this story on KUsports.com