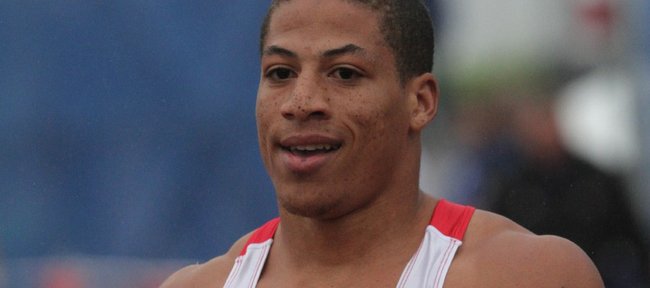 With a smile befitting The Joker lighting up his face, Olathe North High senior and Kansas University football signee Adonis Saunders cruised across the finish line in first place over the weekend at the Kansas Relays.
The grin was vintage Saunders, a 5-foot-11, 185-pound defensive back who signed with KU coach Turner Gill in February.
"That's Adonis," O-North sprint coach Eniak Mpwo said. "He's a big clown. But he's tough."
He's also lightning-fast, and his performance at the Relays — Saunders won the 100 and also anchored O-North's 4x100 relay team to gold — was the first sign of concrete proof that Gill's second recruiting class at KU has some speed.
During Friday's preliminary rounds of the 100, Saunders ripped off a 10.63, the fastest time in the state this year by a prep sprinter. One day later, in the finals, Saunders topped his own time by winning the event in 10.59.
For a little perspective, former KU standout Jake Sharp's fastest time at Salina Central was 10.49, in 2005. According to the Kansas State High School Activities web site, the Class 6A state record is 10.36 and belongs to Mario Ponds, who set it at Wichita Southeast in 1996.
"Honestly, I really didn't expect that," Saunders said. "I actually thought I would go about 10.8 or 10.7, but I just going real good and started hitting it."
That's often the way people describe Saunders' football game, as well. While some defensive backs use their wheels for coverage, Saunders uses them to generate power.
"I'm a physical player, and I hit with speed," he said. "Speed and power. It's quick, it's fast, and that's exactly the type of player I am in football and anything else I do."
Since signing with KU — the two-star defensive back chose Kansas over offers from Iowa State and New Mexico State — Saunders has received positive feedback about his choice to play college ball close to home. At the Kansas Relays, Saunders was inside the venue he hopes to one day shine in, and he admitted just being there fired him up.
"Man, it feels really good, knowing that next year I'll be out there playing on that football field," Saunders said. "It feels really good."
Mpwo said the preparation for performing in Memorial Stadium started early last week in practice.
"I just told him, 'Hey, you're goin' home. That's gonna be your home for the next four years,'" Mpwo said. "He's a great competitor in both football and track, and he came in with the mind-set that he was gonna put on a show."
Saunders, who played one season at O-North with current Jayhawk Kevin Young, said he talked to Young while being recruited by Kansas.
"Kevin and I are real close," Saunders said. "I sat down with him, and I asked him, 'Kevin, what is the deal with your school?' And he was like, 'Adonis, this school is for you.'"
Though he considers himself a football player first, Saunders said he might consider becoming a two-sport athlete in college.
"I was talking to coach Gill about it, and he said if my grades are up, then the decision's up to me," Saunders said of the possibility of running track at KU. "I'm still kind of thinking about that."
More than anything, though, Saunders is thinking about football. Day and night, he dreams about putting on the KU uniform and helmet and making plays for the Jayhawks.
Before then, he'll happily finish his high school track career. As a sophomore, Saunders won state titles in the 100, 200 and 4x100 relay and was named the Kansas Gatorade Track Athlete of the Year. A hamstring injury last season prevented him from defending his titles and, with this year's state meet just five weeks away, he has his mind set on going out in style.
"I think he can go even faster (than his times at the Kansas Relays)," Mpwo said. "You know, this is early, we're just getting into the real training now, and I think he can go faster."
Though he rushed for 1,500 yards as a running back for the Eagles last fall, Saunders is projected as a defensive back at KU.

"They said I was probably gonna do D-back and kick returns," he said. "I love the option to do both. I like hitting, but I do like running, too."
Added Mpwo, himself a former standout football player at Olathe North and Arkansas State: "People like Adonis, you gotta find a way for them to get the ball. Trust me, all he needs is a little seam and he's gone."
It wasn't just his prospect for playing time that made Saunders pick KU, though.
"They really have that family type of feeling to the team here," said Saunders, who will come to KU with O-North teammate Victor Simmons. "It's just great to feel at home here because, up at North, that's exactly how it was for us. Same colors and everything."