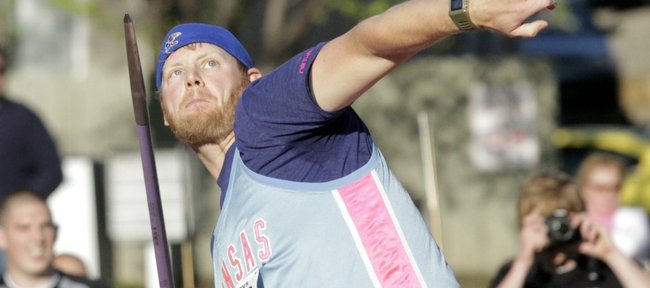 There's only one thing Kansas University senior pole vaulter Jordan Scott must do to become a contender for the 2012 Olympics and beyond.
"I think he needs to get a hat, cover up that hair a little bit or shave it off," joked elite U.S. vaulter Jacob Pauli, fifth-place finisher at the 2008 Olympic Trials.
Actually ...
"He's there already," Pauli, assistant track coach at Northern Iowa, added in a serious tone, referring to the multi-hair-colored winner of Friday's Kansas Relays vault (17-61⁄2) in Memorial Stadium.
"He's working with one of the best coaches in the United States in Tom Hays. He's tall (6-2), strong and fast. He only needs experience in big meets."
It's a good time to be an up-and-coming vaulter.
"There's a huge gap in in the men's pole vault in the United States. It's becoming a topic around the world," Pauli, 31, said. "We used to be the top two medals at every Olympics, and we were eight-deep. In 2004, I jumped 19 (feet) for the first time, and I was No. 10 in the United States. Since then, some of the older guys have retired. The younger guys haven't come. Jordan is one of a couple guys people are looking to in the next few years to be 'the guy.'"
Scott — he tied Michael Viken and Pauli, winning on fewer misses — was the most noticeable of all competitors because of his crazy coloring.
Scott's girlfriend, KU vaulter Julia Cummings, dyed Scott's hair platinum blond, painting a full-blown Jayhawk on the back of his head.
"That's just Jacob. He's jealous," Scott, last year's NCAA Outdoor vault champion from Watkinsville, Ga., said, responding to the joke about his scalp. "I took a break from dyeing it the last few meets. I've been working on some things and didn't want to draw too much attention to myself when I'm not going to jump that high. But for the KU Relays, I had to bring it back."
Scott, who has a personal-best leap of 18-8 3⁄4, is hoping to turn pro following this year's NCAAs. He's glad he has the endorsement of Pauli.
"I'll have to go thank him. That's definitely one of my goals," Scott said of the Olympics. "For it to actually happen, it will take a lot more hard work."
Russell sets mark
Former KU javelin thrower/Relays fan favorite Scott Russell threw a meet-record 268-11 to win the event Friday outside Memorial Stadium. He bettered his old record of 267-6, set in 2008.
Competing for Canada, Russell placed 10th in the Olympics in 2008. Now a 32-year-old middle-school teacher in Baldwin City, Russell, who wore his old pink and blue KU jersey Friday, had been injured the last two years.
"This was just to see how I do," said Russell, who outdistanced KU freshman Johann Swanepoel, who threw 241-6, fourth-best mark in KU history. "Now I have to train for London (2012 Olympics) if I can do this. I shouldn't have thrown this far with as little as I've trained."
Swanepoel, a native of South Africa who attended Shawnee Mission South, set a personal-best mark Friday.
"I just want to keep throwing PRs and getting better all the time," he said.
Finley excels
KU's Mason Finley threw 65-1 1⁄4 to win the shot put and beat Fort Hays State's Max Alonso (57-11 1⁄4).
"It's the first time I've thrown outdoor this year," said Finley, a native of Salida, Colo.
"My goal is the national championship," said Finley, second in the NCAA shot and discus his freshman year. "I can get a little more consistent. I have form to work on."
This, that
KU grad Crystal Manning won the triple jump (43-2 1⁄4), edging KU's Andrea Geubelle (42-31⁄4). KU's Heather Bergmann was second in the javelin in a school-record 168-7. ... KU's women and men won the distance medly relays. Kyra Kilwein, Denesha Morris, Cori Christensen and Rebeka Stowe ran 11:50.34; Josh Munsch, Derrick Perry, Brendan Soucie and Austin Bussing 10:12.51.