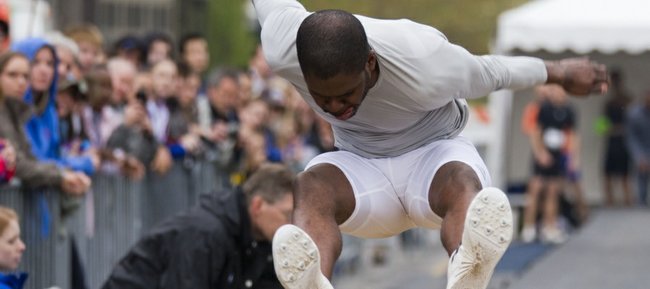 Fans stood two rows deep to the left and right of University of Nebraska senior Nicholas Gordon. They clapped rhythmically as the Jamaican track and field sensation took off down the makeshift long-jump runway Thursday night in downtown Lawrence.
Spurred by 500 fans on Eighth Street between Vermont and Massachusetts, Gordon sailed 25-21⁄2 on his sixth and final attempt, winning a Kansas Relays invitational long jump tiebreaker over former Kansas University standout Eric Babb, who coincidentally went 25-21⁄2 on his first try.
"I mean, it's definitely a different experience. It was really fun," Gordon said of taking the meet to the fans in the street.
"A lot of these people probably have never seen a long jump before. It's fun to bring the sport to some people who have never experienced it."
The four-time All-American, who plans to compete in the collegiate triple jump today and long jump Saturday at Memorial Stadium, said he wasn't affected by a runway a bit shorter than he's used to.
"I had to shorten my approach a bit, not much. It was probably 15 feet or so. I had a great time," said Gordon, deemed the winner because he had the second-longest jump (25 feet).
Babb, a 2007 KU graduate from Garden City who teaches math on campus, had a cheering section standing right off Mass Street.
One of his fans' signs read, "Jump Big Babb."
He obliged.
"It was a big motivator having all these friends here," said Babb, who arrived at KU as a walk-on and, four years later, placed fourth in the long jump at the NCAAs.
"The shot put yesterday (also held downtown) was amazing. This went great as well. It'll only get better in years to come."
The format with the shorter runway had jumps measured from their takeoff point with no fouls.
"Three of us couldn't go off our full approaches. That's why I was taking off six feet over the board every time because I couldn't get a full approach in every time," Babb said. "The first one was good. I got scared almost landing out of the pit. It was fun."
Two-time Olympian Walter Davis and Alain Bailey, who was ranked fourth in the world last year, did not attend the Relays for undisclosed reasons. Former KU jumper Eric Fattig, a six-time NCAA champion, placed fifth with a jump of 23-111⁄2.
This, that: First-day leader Rebecca Neville of KU placed third in the heptathlon with 4,880 points. Nebraska's Rachel Butler won the event with 4,948. ... KU's Josh Baden placed second in the 5,000 in a personal-best 14:40.73. ... KU's Nick Canton was third in the decathlon with 5,771 points. Nebraska's Teran Walford won with 6,586.
• A previous version of this story was updated.
More like this story on KUsports.com