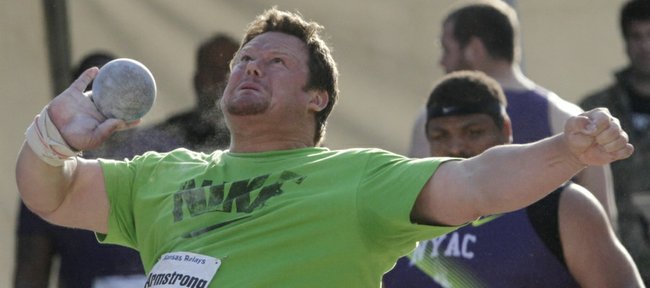 Feeling parched after winning the first-ever downtown edition of the Kansas Relays shot put, Dylan Armstrong realized there were plenty of establishments close by to quench his thirst.
Would Armstrong duck into one of the local watering holes to toast his throw of 70-71⁄4?
"Probably," the 6-foot-4, 310-pound mountain of a man said just after 7 p.m.
"It looks like there are plenty around here. I'm hoping to explore a little bit tonight," added the world's No. 7-ranked shot putter from Kamloops, British Columbia.
Armstrong — he was to catch a 6 a.m. flight to San Diego today following his first trip to Lawrence — likely wouldn't be paying for his own drinks Wednesday night. Judging from the amount of autographs he signed, he appeared to make a lot of fans in a crowd estimated at 2,500.
"You've always got to think you are going to win, but this is strong," Armstrong said after edging Reese Hoffa, the second-ranked thrower in the world, who threw 69-31⁄2. Adam Nelson placed third in 68-51⁄4.
"This is one of the strongest events in the world now in track and field. We had a great group of guys here. We are friends. We push each other hard. The crowd was great. I couldn't have done it without the fans. I hope this is an annual event."
He promised he'd return in 2012.
"How can I not (return), right? This was awesome," Armstrong said of the atmosphere on Eighth and New Hampshire streets.
The event was witnessed by the world's No. 1 thrower, Christian Cantwell, who did not compete because he felt a twinge in his back, as well as up-and-coming Kansas University thrower Mason Finley, who will compete in the both the collegiate shot and discus Friday and Saturday at Memorial Stadium.
"He'll be happy with that (winning mark). He's a great competitor," Cantwell, a former University of Missouri phenom, gushed. "His form was great. Every time, it was the exact same thing. He knows exactly what he wants to do. He let it fly," Finley noted. "He is the one who had it down today."
Hoffa, a 33-year-old two-time Olympian out of the University of Georgia who is an accomplished Rubik's Cube puzzle solver, completed the cube in about three minutes in an exhibition for the media after the shot competition.
His personal-best time is 38 seconds.
"It usually doesn't take me this long, sorry," the colorful Hoffa said while twisting the cube. "I'm feeling the pressure. My cube works a lot faster. I have it lubed up. That was kind of slow. I'm kind of embarrassed. I should do it faster than that."
Of his shot put runner-up effort, Hoffa said: "I should have hit it a little harder. I've been training real well. I should have put it together. I did get to my 83rd competition over 69 feet. I'm two (competitions) away from No. 2 all-time (over 69), so that's kind of cool."
The setting was definitely cool.
"We are getting used to it. We're starting to have a lot of events like this in Europe," Armstrong said. "Zurich had it in a train station. Stockholm had it downtown like this. Hopefully people come on board in other cities and start doing it. This was great. There can't be anything better."
Noted third-place finisher Nelson: "Lawrence did a fantastic job hosting it. There was an amazing turnout. To have an event like this and no issues the first time to do it speaks of the professionalism of the people here."
Eight individuals competed. Corey Martin was fourth in 67-113⁄4, followed by Ryan Whiting (67-11), Dorian Scott (66-0), Noah Bryant (65-11) and Dan Taylor (62-7 1/4).
Heptathlon/decathlon: KU's Rebecca Neville placed first in three of four events to lead halfway through the Candace Mason heptathlon with 3,125 points. Iowa State's Jordon Andreassen and Nebraska's Jordan Steins enter today's final four events with 3,028 and 3,011 points, respectively.
Neville, a sophomore from Merrillville, Ind., had a personal-best 5-53⁄4 in the high jump.
"You go into every competition like that," Neville said of trying to win. "You want to do your best every single time. The girls that I'm beating right now from Nebraska beat me at the Indoor Big 12 Championships even though that wasn't a good pentathlon for me, but it's just showing me how much better I'm getting as we move on in the season."
Jamal Currica of Iowa State leads the decathlon after five events with 3582 points. Teran Walford of Nebraska and KU's Nick Canton are second and third with 3,460 and 3,311 points.
This, that: The long jump will be held today at 6 p.m., downtown (Eight Street, between Vermont and Massachusetts). The event features two-time Olympian Walter Davis, as well as Alain Bailey, ranked fourth in the world in 2010. KU grads Eric Fattig (2010 NCAA All-American) and Eric Babb (fourth at the NCAAs in 2008) are also entered.