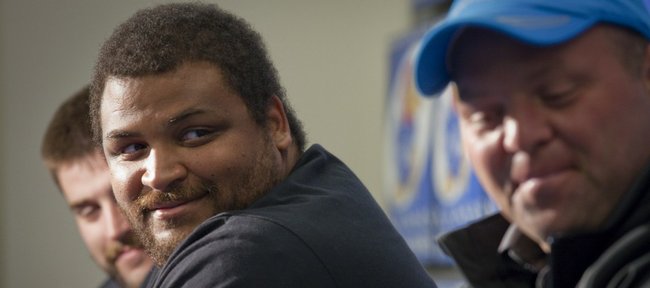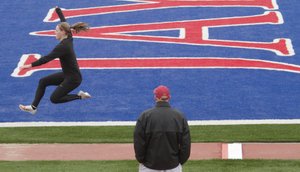 Enterprising downtown restaurant chefs might want to bake and baste some turkey legs today just in case Reese Hoffa — the world's No. 2-ranked shot putter — wins tonight's Kansas Relays competition.
Hoffa, a 33-year-old, two-time Olympian out of the University of Georgia, has been known to celebrate big victories with his own rendition of the "Turkey Trot."
He jogs around stadium tracks while eating a turkey leg and waving to the crowd.
"Sure, I'll do a victory lap around the shot put area," the 5-foot-11, 315-pound Hoffa said, realizing it'd be a big accomplishment to beat the likes of No. 3-ranked Cory Martin, No. 5 Ryan Whiting, No. 7 Dylan Armstrong, No. 10 Adam Nelson, No. 14 Dan Taylor, No. 16 Noah Bryant and No. 22 Dorian Scott in the downtown extravaganza, set for a 6 p.m. start on Eighth Street between Massachusetts and New Hampshire.
"Usually somebody brings one for me," Hoffa said of a delicious turkey leg.
He gladly explained how the tradition started.
"When I first did it at the Drake Relays (in 2000), I told one of my teammates, 'Turkey legs here are pretty awesome. If I win it'd be my second year of winning in a row.' I said, 'You've got to go get a turkey leg, and I'll do a lap with that.' The hard part was actually winning. I think I won by a couple inches. The victory lap was awesome.
"It's unbelievable," he added of the reception he gets while performing the Turkey Trot.
The colorful Hoffa — he once wore a mask and cape during the 2004 Home Depot Invitational, during which he responded with a personal best throw — wouldn't completely discount fulfilling his greatest fantasy tonight.
That would be wearing a full bear suit after being carried into the ring in a cage.
"That would probably be a good time to bring it out," Hoffa said of a night like tonight when temperatures are expected to top at 60.
"I guess I've got to find the right bear suit which meets the needs to be able to throw in it. I've looked at some fabrics that could possibly work. I'm not sure if I'll do it anytime soon," he added, with a smile.
If victorious and in a good mood tonight, he might be convinced to show off his prowess with a Rubik's Cube. A speed cuber, Hoffa has solved the puzzle in a personal-best 28 seconds.
"I saw a kid on a bus do it and said, 'That's cool. I want to do that.' I went to Walmart and bought a Rubik's Cube. It took three months to figure out how to get it back together without breaking the cube."
Hoffa said he "hunted down" the guy on the bus and, after a quick lesson, mastered the cube. He named his method the 'Puno Sun' method in honor of the person who taught him the trade.
"He can do it in 26 seconds," Hoffa said of his puzzle-solving buddy.
Hoffa, who has entered Rubik's Cube competitions, said, truth be known, the shot put is the more difficult of the two competitions
"The cube took me three months. The shot put ... it takes six to seven years to understand what to do in the ring," Hoffa said. "For me it was two years of high school (in Georgia), then another three, four, five years to truly master it to where I wouldn't need a coach to hold my hand. Every little thing is part of the shot put: rotation, what to do with your knees, where your hands have to be, small things."
He hopes it all comes together for a victory tonight. If that happens, all sorts of fun make break loose downtown.
"I'm the luckiest guy in the world I have a job that allows me to throw a 16-pound ball for a job," said Hoffa, who in recent years has been able to celebrate his accomplishments with his birth mother, who gave him up for adoption as a youth. Hoffa found her after some nifty detective work on the Internet.
"We have a great field here. I want the fans to be excited, for them to say, 'I went to a shot put competition and had a lot of fun.'''
The world's No. 1 putter, Christian Cantwell, scratched from the competition Tuesday for undisclosed reasons.