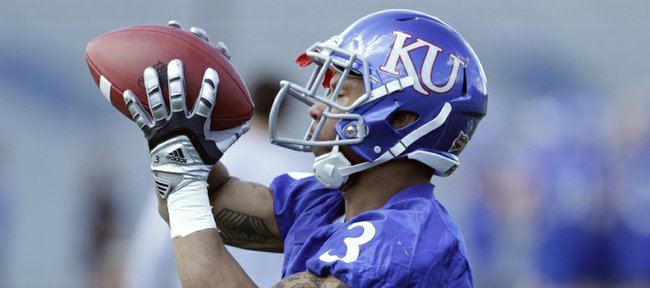 Photo Gallery
Kansas Football Practice 4-18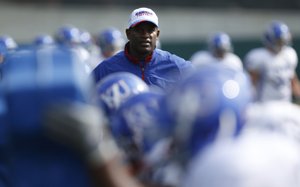 Images from the KU football team's practice on April 18, 2011.
So far, Kansas University football coach Turner Gill has decided to bar the media from watching his team's intrasquad scrimmages, which has resulted in keeping the buzz about the 2011 season at barely audible levels and has kept ticket sales from reaching levels they might otherwise reach.
Still, even though the media never has seen first-semester freshman Darrian Miller carry the football for Kansas, word about his abilities has made the program's fan base curious to know more about him.
Miller, from Blue Springs (Mo.) High, ran for four touchdowns in an intrasquad scrimmage April 9 and ran for another score in the next scrimmage, a week later.
Reggie Mitchell, KU's recruiting coordinator and running-backs coach, knew he had landed a big fish when he received a commitment from the four-star Miller. He just didn't know how big.
"Darrian, when the ball is in his hands, he has a chance to make a big play all the time," Mitchell said. "He's got a great feel for running the ball, good vision and good feet, so he's been a pleasant surprise."
Last season, no KU running back had a run longer than the 28-yard, fourth-quarter touchdown by freshman James Sims, which put Kansas ahead of Colorado during the season-highlight comeback victory.
The presence of Sims and Miller softens the blow of the loss of Brandon Bourbon, whose spring ended Monday and whose 2011 season is in question after he suffered a leg injury. The contrasting styles brought by Sims and Miller give Kansas, which will be the underdog in roughly all but three games, a shot at shortening games by featuring the running game. The shorter the game, the better the chance to pull off an upset.
"Darrian's more of a change-of-pace type guy, whereas James is an inside-the tackles runner, but he has the ability to get on the edge as well," Mitchell said. "It's a good combination so far."
If Miller is called upon to be an every-down runner, Mitchell said he thinks he could do it as a freshman.
"He's bigger than you think," Mitchell said. "He's about 195 pounds. He has this wiry body. He's put together pretty good. He's made people miss, and he's run through arm tackles. If he's the guy, he'll be able to carry the ball."
Mitchell's done an amazing job of luring running backs to KU. Bourbon was committed to Stanford, and Mitchell convinced him to sign with Kansas. Miller was a huge coup and arrived a semester earlier than two other highly ranked backs, burner Anthony Pierson from East St. Louis, Ill., and Dreamius Smith of Wichita.
"I've been pleased with the running backs, and the offensive line has done a great job," Mitchell said. "We're a lot further ahead from where we were last year, not only from a scheme standpoint, but from a talent standpoint."
On paper, Kansas looks short on talent and/or experience at several spots — quarterback, wideout, defensive tackle, defensive end, linebacker — but the running-back position appears to feature ample talent to compensate for a lack of experience. At running back, more so than any position, talent always takes precedence over experience.