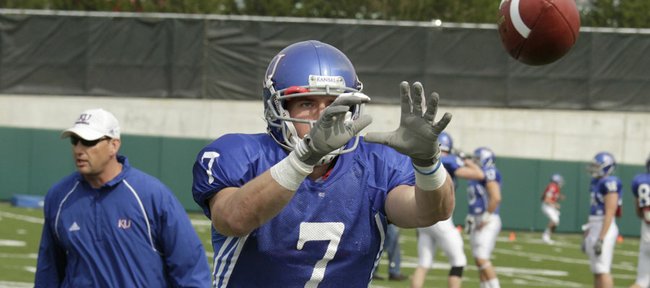 Kansas University junior Kale Pick is getting pretty used to being compared to other people.
Photo Gallery
Kansas Football Practice 4-18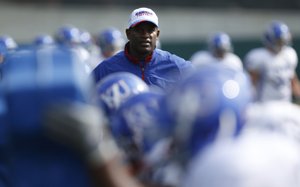 Images from the KU football team's practice on April 18, 2011.
Last year, as he fought to claim the starting quarterback job for the Jayhawks — which he lost three quarters into the season — Pick often was compared to Todd Reesing, a mobile quarterback who could beat teams with his legs as much as his arm.
Now, Pick's being compared to another former KU great — Kerry Meier. The reason? After being benched in KU's season-opening loss to North Dakota State in 2010, Pick never again played a meaningful snap at QB. By season's end, he was moved to wide receiver, and, like it or not, began following the same path Meier took after losing the starting QB job to Reesing in 2007.
This spring, Pick has made the switch to wide receiver a permanent thing, and, so far, he has made quite an impression at his new position.
"Kale Pick's doing real well," KU coach Turner Gill said recently. "He's probably had as good a camp as anybody this spring. He's making plays every day, he's very consistent, a hard worker, he has very good hands, and he understands what to do and how to do it."
Sounds a little like Meier, doesn't it? That's not a problem for Pick.
"I don't get tired of it," he said. "That was kind of the talk last year, with Reesing, when everybody was saying, 'Who's gonna replace Reesing?' so I'm kind of used to that. I don't mind it. It kind of gives me a goal and something to reach for."
Speaking of reaching, Pick reached out to Meier this winter to pick his brain about what to expect from the transition.
"I called him over Christmas break," Pick said. "And he just talked to me about some of the stuff I need to work on, kind of the basic stuff to get started. It was a pretty quick call."
That's fitting because Pick has been quick to pick up the transition to receiver, too. Last year, Pick appeared at wideout in just a handful of games. He made three catches for 18 yards, including a long reception of nine. Despite his limited exposure at the position, he has welcomed everything the coaches could throw at him this spring — literally and figuratively.
"Things are going good," Pick said. "I think I've caught on pretty quick, but I still need improvement in my route running. I think it's been a pretty smooth transition. In the back yard growing up and stuff, we'd always play around, and I was used to catching the ball."
So, what routes has the former quarterback specialized in this spring?
"Basically all of them," he said. "A lot of streaks down the middle and down the hash marks, and then I've got digs and corners and the short stuff, too."
Which one has been the hardest to pick up?
"I really don't have a hardest right now," he said. "I'll have to think about that."
Pick credits some of his early success at the new position to an old friend, wide receivers coach David Beaty. Beaty was with the Jayhawks when Pick was recruited to KU and returned this offseason after a one-year stint at Rice. The fact that Beaty was one of the guys who helped turn Meier into an NFL Draft pick at wide receiver has not slipped Pick's mind.
"He's a great coach, real smart guy, and he's helping me a lot," Pick said of KU's receivers coach. "I'm glad he's back."
It's funny, but that's kind of the feeling teammates have about Pick, who many thought might explore a transfer in the offseason.
"The coaches are just trying to put guys in the right positions to make the biggest effect on the team," sophomore QB Jordan Webb said. "In Kale's case, he's definitely going to excel at receiver. He's fast. He runs good routes, and he's going to block, too. I've had a lot of fun throwing at him."
Instead of worrying about finding a new place to play, Pick said he spent the offseason bulking up in order to be ready for his new role. He emphasized his upper body in the weight room and is hoping to add 10 pounds to his 6-foot-1 frame in order to reach a playing weight in the 215-218 range. That, he said, would allow him to be a more punishing blocker while also making him a bigger target for the KU quarterbacks. Pick admitted that every once in a while, he caught himself looking over at the guys in the red jerseys and thinking back to his days as a quarterback. Does he miss it?
"A little bit, yeah, I do," he said. "But I started to like receiver quite a bit this winter. I got a lot of reps, and I've got timing and chemistry with (Webb and Quinn Mecham). I'm starting to like receiver a lot more than I expected."
Pick and the Jayhawks return to the practice field Wednesday afternoon for the 11th practice of the spring. Spring ball wraps on April 30 with the annual spring game at 1 p.m.