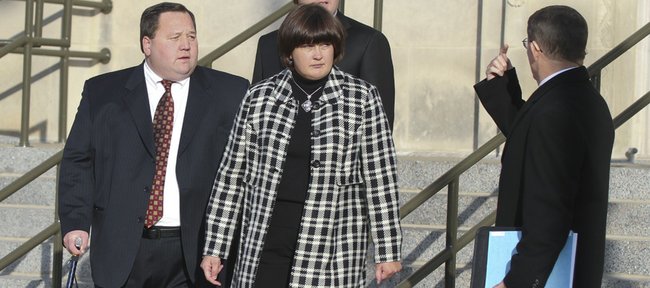 Wichita — Charlette Blubaugh, a former associate athletics director at Kansas Athletics Inc., was sentenced Thursday to 57 months in prison for her role in a ticket-theft scheme and conspiracy that prosecutors say cost the department at least $2 million.
Blubaugh, who had pleaded guilty in January to conspiracy to commit wire fraud, also must spend three years on supervised release once she's released from custody, plus be responsible for paying a total of $2.56 million in restitution to the department and the IRS.
U.S. District Judge Wesley Brown also denied Blubaugh's request to delay her prison term, quashing her hopes that she would care for her two young children — ages 5 and 6 — while husband Thomas Blubaugh serves a 46-month prison term for his role in the tickets scam.
"I am truly sorry for the pain that I have caused, and the disappointment I have caused my family," Charlette Blubaugh said.
Brown imposed the sentence as federal agents and others looked on in U.S. District Court in Wichita.
"We're all sorry this occurred," Brown said. "But this did occur."
Charlette Blubaugh, the former associate athletics director for ticket operations at Kansas Athletics, was a central figure in a scam that involved more than 17,000 basketball tickets and more than 2,000 football tickets from 2005 to 2010.
She, her husband and others took tickets and then sold them through brokers and others for their own personal gain.
"She was the gatekeeper for all stolen tickets," prosecutors said, in their sentencing memo.
She also was in charge of the computer system that was supposed to track tickets and presumably prevent thefts. Prosecutors noted that in December 2009, Lew Perkins, then athletics director, had been meeting with federal investigators regarding nearly 100 ticket stubs — all but one with consecutive numbers — that had been pulled out of a trash can in the Kansas City area as part of their ticket investigation.
When Perkins called Blubaugh into the interview, prosecutors said, she lied to investigators by advising them that it would be impossible for anyone to have more than 40 tickets to any KU basketball game. She also told the agents that the computer program tracked destinations of tickets to prevent such problems.
"She provided this information full well knowing that she had manipulated the system to allow for the large scale illegal issuance of tickets so that the issuance would appear to be in the regular course of business," prosecutors said, in their sentencing memo.
Blubaugh left the department in February 2010, citing family reasons. But because of her experience with the computer software, she stayed with the department in a consulting capacity to help handle "the requests of federal authorities" regarding tickets, according to KU's investigation. She even worked on spreadsheets provided by the IRS.
Soon, the scam would be exposed. KU released its investigation in May, and Charlette Blubaugh quickly resigned from her job working for the athletics director at the University of Central Oklahoma.
KU's investigation concluded that she had been "directly responsible for creating the climate of an ice cream store where the employees feel free to sample the wares without paying for them." She and others were indicted by a federal grand jury in November 2010.
On Thursday, Judge Brown concluded that Charlette Blubaugh's involvement had been key, even as she had argued that thefts had been ongoing upon her arrival at KU in 2004 and that auditors had failed to raise concerns, leading her to start stealing tickets herself in 2006.
"Regardless of whose idea it was or how it started … her conduct was essential for the conduct to continue for many years," Brown said.
In fact, prosecutors said, Blubaugh and her husband already had earned $35,440 from illegal ticket sales in 2005 — the beginning of an overall take of $841,111 over five years, all from running tickets through a single broker in Oklahoma.
Earlier this week, prosecutors noted that investigators recently discovered 14 boxes of tickets and parking passes — including 3,000 tickets for the 2008 Orange Bowl — in a storage unit in Lenexa, likely pushing KU's financial losses beyond what had previously been calculated.
"Defendant and her husband enjoyed a lavish lifestyle, including an expensive home in Cedar Creek with pool and customized patio," prosecutors said in their memo. "They purchased vacations, vacation timeshares and a motor home. And they have not provided the government with a reasonable explanation of all that happened to the money."
On Thursday, Brown ordered Charlette Blubaugh to be responsible for $2.56 million in restitution. Of that total, nearly $2.3 million must go to Kansas Athletics — of which nearly $1.2 million she shares responsibility for paying along with four other former Kansas Athletics employees convicted of conspiracy:
The total for Kansas Athletics also includes more than $100,000 in restitution that she shares responsibility for paying along with Brandon Simmons, a former employee who previously admitted taking and selling tickets but pleaded guilty to a lesser charge, failing to notify authorities about the scam; and $56,000 that she shares responsibility for paying along with Jason Jeffries, another former coworker who had pleaded guilty to the lesser charge.
Both Jeffries and Simmons are on probation.
Charlette Blubaugh's attorneys initially had sought probation for their client, arguing that she had lacked a previous criminal record, had cooperated with authorities and still had parental duties.
"She has a good moral compass that simply failed her in a big way," her attorneys said, in their sentencing memo.