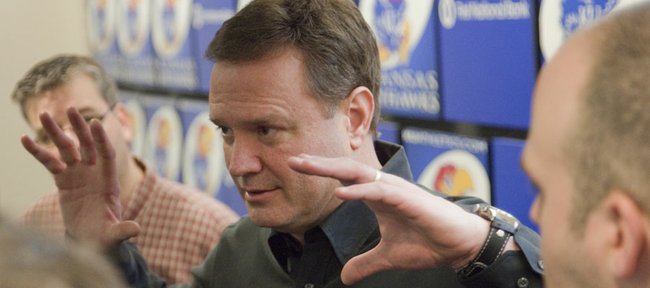 Kansas University basketball coach Bill Self on Wednesday announced that shooting guard Ben McLemore and power forward Braeden Anderson have signed scholarship agreements to play hoops at KU.
McLemore, 6-foot-5, 185 pounds from St. Louis, signed a national letter of intent in a ceremony Wednesday at Christian Life Center in Humble, Texas.
Anderson, 6-8, 215 from Ototoks, Alberta, inked a financial-aid agreement with KU at his home in Canada. He had previously signed a national letter with DePaul. High schoolers are allowed to sign just one letter of intent.
McLemore averaged 16 points and seven rebounds in six games at the Texas school. He started the school year at Oak Hill Academy in Mouth of Wilson, Va., before being dismissed for violating undisclosed team rules.
"Ben is a guy we identified a couple of years ago being a player that would be a priority for us," Self said. "Very rarely do you find guys that are as athletic as Ben with the shooting skill that he has. He's going to become even a better shooter as we move forward. He has a chance to be an outstanding player."
McLemore, who chose KU over Missouri and Tennessee, is rated No. 17 nationally by Rivals.com.
"It's not easy for a kid growing up in St. Louis to choose the University of Kansas," Self said. "We've been so pleased with his loyalty. Ben has told us all along that he wanted to be a Jayhawk, and we let the process play out, and he certainly held true to that. I'm very excited about him."
Anderson — he chose KU over Kentucky, Arizona, Florida, Missouri and Memphis — averaged 20 points and 11 rebounds at Wilbraham and Monson Academy in Wilbraham, Mass. He recently left the school for undisclosed reasons and is finishing up his course work online in Canada.
"Braeden is a guy we identified late," Self said of the unranked player. "When we felt like the (Morris) twins would probably be leaving, we looked for the best available big guy there was in the country. Although we are still recruiting a couple more, Braeden Anderson was on everybody's list. He is a guy with a great skill set, great bounce and great body and is just a short time away from a chance to be a really good player for us."
The spring signing period lasts until May 18. KU, which signed point guard Naadir Tharpe in November, has three remaining scholarships to give in the Class of 2011, four if Josh Selby declares for the NBA Draft. Previously a walk-on, Conner Teahan received a scholarship this year because one was available. He figures to receive one again his senior year, with KU likely not to fill all available slots. Self said he would like to sign at least one more perimeter player and one more frontcourt player.
No. 91-rated Tharpe, a 6-footer from Brewster Academy in Wolfeboro, N.H., averaged 14.5 points and 6.0 assists in leading Brewester to a 31-3 record.
Players still on KU's wish list include DeAndre Daniels, 6-8, 180, from IMG Academy in Bradenton, Fla.; Jamari Traylor, 6-7, 210, also from IMG; and Trevor Lacey, 6-3, 190, from Butler High in Huntsville, Ala.
Possible transfer?
La Salle sophomore center Aaric Murray, who has announced plans to transfer, may make a recruiting trip to KU, according to the Philadelphia Daily News. The 6-10 Philly native averaged 15.2 points and 7.7 rebounds last season. He has visited Oklahoma State and also has West Virginia, Marquette and DePaul on his list.
Still in Vegas
KU freshman Selby remained in Las Vegas on Wednesday, working out at Impact Basketball as he decides whether to enter the NBA Draft or return to KU for a second season.
Underclassmen have until April 24 to declare. ESPN's Chad Ford lists Selby as the 44th overall prospect, meaning he'd be a second-round pick in this year's draft. Draftexpress.com has Selby being taken No. 27 in the first round.
CBSsports.com's Gary Parrish is the latest to write that Selby ultimately will choose the NBA. In Wednesday's piece on the CBS website, he wrote: "Selby will announce sometime soon that he's entering the NBA Draft because the only real alternative would be to return to Kansas, and that just isn't happening. You think Selby wants to try to explain to the NCAA how he has been paying to train in Las Vegas for the past week? No way. So the freshman guard will pick an agent and formally declare — meaning his entire college career will consist of one disappointing season that garnered more headlines for impermissible benefits (in high school) than impressive performances."
More like this story on KUsports.com