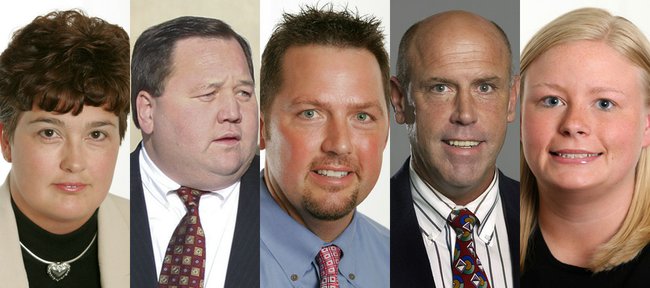 Kassie Liebsch wants to be near her parents in Wisconsin.
Rodney Jones would prefer to spend the next few years in nearby Leavenworth.
Thomas Blubaugh hasn't indicated a preference.
Just where the three co-conspirators in the KU tickets scandal will be incarcerated depends on the U.S. Bureau of Prisons. Two others are still awaiting sentencing.
"Often the defense attorney or the inmate will ask for a specific designation for whatever reason," said Chris Burke, a spokesman for the bureau in Washington, D.C. "It is just a recommendation. We try to comply with those whenever we can, but we can't always do it."
Absent appeals, Liebsch, Jones and Blubaugh each will be responsible for surrendering — whether that's to the bureau, to the U.S. Marshal's Service or perhaps even to a specific institution — at an as-yet-unannounced time and date.
The bureau determines where, exactly, an inmate will be incarcerated after receiving documentation from the judge in the case, Burke said. The bureau does not disclose where or when an inmate will report, both for security and privacy reasons.
Liebsch, a former systems analyst at Kansas Athletics Inc. who served less than a year as leader of the department's ticket office, has asked to be assigned to a center near her parents in Wisconsin. She made the request during her sentencing hearing in Wichita, as her parents sat in the back row of the gallery.
She is scheduled to spend 37 months in prison, a total that could be reduced by 15 percent for good behavior. The bureau has two camps for minimum-security female inmates in Illinois.
"I hope they can find a place," U.S. District Judge Wesley Brown told Liebsch, who was crying during her hearing. "Good luck and take care."
Jones, former assistant athletics director for the Williams Fund, asked Brown to help him be assigned to the federal prison camp in Leavenworth. That's so that he could be close to friends, family and other supporters during his 46-month sentence, which could be shortened by nearly seven months for good behavior.
The camp for minimum-security inmates is the same place where NFL quarterback Michael Vick was incarcerated for his conviction on animal-abuse charges.
Brown reminded Jones that he actually has no control over prison assignments, saying that such duties were the responsibility solely of the Bureau of Prisons.
"It's their job," Brown told Jones and his attorney.
Blubaugh, a former paid consultant to Kansas Athletics, did not request a specific prison assignment. He was sentenced Monday to spend 46 months in federal custody.
Blubaugh's wife, Charlette Blubaugh — former leader of the ticket office — is scheduled for sentencing Thursday in Wichita. Sentencing for Ben Kirtland, former associate athletics director for development, is set for May 12.