Photo Gallery
KU Football Practice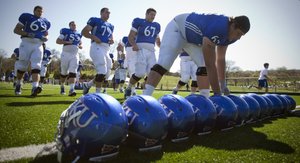 The Kansas football team held practice on Monday, April 11, 2011.
Those of us who spend much of our springs daydreaming about what the Kansas University football team might look like in the fall tend to consider safety among the more sure-thing positions on a roster loaded with maybes.
That says a lot about two things: First, sophomore-to-be Keeston Terry and rising junior Bradley McDougald have serious potential. Second, this really is a young football team.
Between them, Terry and McDougald have less than a full season of game experience at safety. McDougald played wide receiver as a freshman and appeared some at safety in the second half of the season. As a sophomore, until switching to defense for the final two games, he was a wide receiver. Terry arrived at camp as a receiver and switched to safety before the season. He stood out as a true freshman the first two games and in the third suffered a season-ending leg injury.
Terry loves to hit and has the speed to become excellent in coverage. McDougald enjoys trying to deny the catches he used to make and gets a charge out of interceptions. He has the size to develop into a heavy hitter.
After Monday's spring practice, coach Turner Gill explained what he likes about his safeties.
"They're playing fast," he said. "They're getting from Point A to Point B very well. Then they're showing they're physical too. They're coming up and showing they're able to make some hits on the run, and they're also showing they can cover man-to-man."
Terry, from Blue Springs, Mo., and McDougald, from Dublin, Ohio, have made strong impressions on their position coach as well.
"Both are very good athletes," said safeties coach Robert Wimberly, who also praised hard-hitting Lubbock Smith. "They both can run very well, both can change directions, they both have very good ball skills, and so far in practice they've shown a willingness to be physical."
McDougald and Terry also bring smarts to the field.
"To be a safety in our scheme, you're going to have to have a pretty good IQ," Wimberly said. "We ask a lot of our safeties as far as making the coverage calls and making the adjustments for different formations and different things that we have set up within our defensive scheme, so you've got to be a low-rep guy. Fortunately, those two guys pick things up very easily."
Different big plays fuel the two talented athletes.
"I think there's more of an adrenaline rush when you make that big hit than when you make an interception," Terry said. "When you make a big hit, everyone gets hyped."
McDougald interrupted: "I don't know about that one, Keeston. I just don't know. ... I don't think there is a bigger (adrenaline rush) than an interception."
Over the next two seasons, McDougald and Terry have a chance to make a big plays of both varieties teaming with talented cornerbacks Tyler Patmon and Greg Brown.