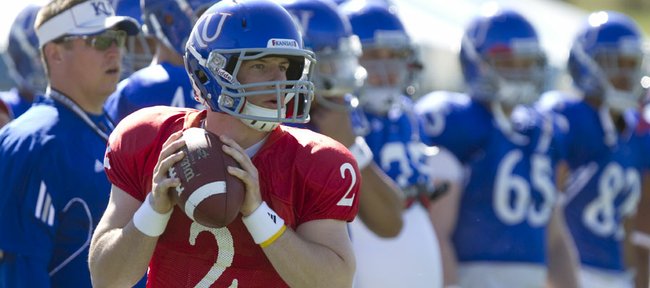 Photo Gallery
KU Football Practice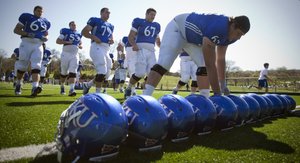 The Kansas football team held practice on Monday, April 11, 2011.
For the second straight spring, Kansas University quarterbacks Quinn Mecham and Jordan Webb find themselves battling for the starting job.
The day-to-day football activities may seem the same, but what's happening inside their heads is anything but what they encountered in 2010.
Last year, both players were new to such a role, Mecham as a transfer from Snow College in Utah and Webb coming off his red-shirt season.
In addition, both were asked to compete for the job while learning a new offense at the same time.
"Honestly, it feels totally different this year," Webb said. "Everything's running so much more smooth this year. We're not putting in a whole new offense, obviously that helps, but I think getting to know the guys better and everything like that's helping a lot."
So is the lack of bodies at the QB position. Last year during spring drills, the Jayhawks had as many as six guys taking reps under center. This year, it's down to three, with Mecham and Webb leading the way and red-shirt freshman Blake Jablonski getting in on the action as well.
For Webb, growth and development in the mental aspects of the game this offseason have made him more comfortable during spring drills.
"Maturity," said Webb, asked what area he's most different in this season. "I know what the coaches want out of me, I know how to play to my strengths better, and I think I'm doing that a lot more."
For Mecham, physical changes to his body have made him a more relaxed player.
"I'm definitely a lot stronger than I was," Mecham said. "I know I'm not faster, but I am stronger, and I think I'm just more comfortable with the plays and the playbook."
Both QB hopefuls got the chance to put their improvements on display in a game-like setting Saturday at the team's first scrimmage of the spring. KU coach Turner Gill said Mecham and Webb split the reps evenly with the first and second teams, and the second-year Jayhawks leader said he noticed two more-mature quarterbacks.
"I saw that they had a little bit better command of what they wanted to do and how they wanted to do some things," Gill said. "I thought they both did some good things. Maybe a little bit of an edge (goes) to Jordan, but, again, they both did execute some good things."
With his Jayhawks now halfway through spring drills, Gill said it didn't take him long to see that both returning quarterbacks were worlds ahead of where they were this time last year.
"No question about that," Gill said. "When you have experience, you're gonna be a lot more comfortable."
While the two players who split starts a season ago will continue to split reps until a starter is named, they also likely will have to deal with more competition when preseason camp opens in August. That's when incoming freshman Brock Berglund, a highly touted dual-threat QB from Highlands Ranch, Colo., will throw his arm into the race.
Regardless of the uncertainty surrounding Berglund and where he'll fit into the competition, Webb is focusing only on spring ball and what he can do to get better every day.
"You really can't think in those terms," he said. "There's definitely a learning curve, and any time here helps. I'm ready for whatever. If they want to name a starter tomorrow, I'm fine with that, but Quinn and I aren't gonna stop competing."
Hawkinson working at right tackle
Junior Tanner Hawkinson, a two-year starter at left tackle, has been working with the first-team offense at right tackle this spring.
Gill said the reason for the switch had as much to do with finding the right spot for returning lineman Jeff Spikes, who has worked at left tackle, as it did locating the best fit for Hawkinson. Junior defensive end Toben Opurum said he was impressed with how Hawkinson had taken to his new position.
"It's almost weird seeing him over there," Opurum said. "I'm used to lining up against him every time, and now I see Spikes, but I think Tanner's a smart dude, and he's athletic, and he'll adjust quickly."
At Monday's practice, the first-team offensive line was as follows: Hawkinson at right tackle, junior Trevor Marrongelli at right guard, senior Jeremiah Hatch at center, junior Duane Zlatnik at left guard and Spikes at left tackle. Behind them, from left to right, the second team was: senior Michael Martinovich, sophomore Randall Dent, freshman Dylan Admire, sophomore Tom Mabry and sophomore Gavin Howard.
Patterson still sidelined
Senior wide receiver Daymond Patterson, the team's top returning pass-catcher from a season ago (60 reception, 487 yards, two TDs), again was held out of practice Monday, nursing a foot injury that kept him out Friday and Saturday. Gill said Patterson could practice if he had to, but added that he probably would continue to hold Patterson out until next week as a precautionary measure.