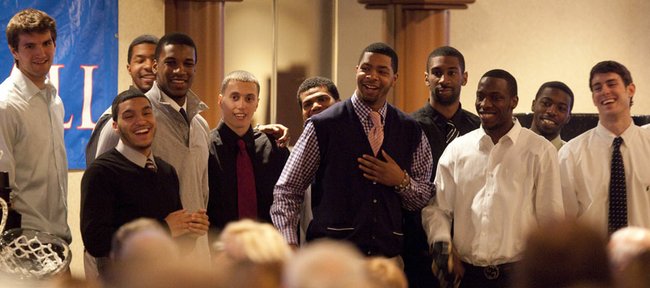 Tyshawn Taylor, who arrived at the Holidome with a bulky, black splint on his right hand, and Josh Selby, who didn't show up at all, provided two of the hottest topics of dinner conversation at Monday night's Kansas University basketball banquet.
Taylor, KU's junior point guard from Hoboken, N.J., had surgery on Friday to repair torn ligaments in the index finger on his shooting hand. It's an injury that has plagued him off and on since high school. He'll be able to resume pick-up basketball in late May or early June.
Selby, KU's freshman combo guard from Baltimore, remains in Las Vegas working out at Impact Basketball as he decides whether to enter the NBA Draft or return for his sophomore season. Various NBA analysts have said he's learning toward playing for pay next season.
"Josh is getting information through workout people in Las Vegas, trying to get some good feedback. We'll have an answer the next day or two," KU coach Bill Self said, indicating he was not upset at Selby for missing the proceedings.
"I talked to Maeshon (mom) today. That decision is coming real soon," Self added. "He has done the work he needs to academically to pass his classes, but he's been gone six days. If he's going to come back, he'll be coming back real soon. If not, he won't. Certainly he will salvage this semester academically and pass his classes, which is good."
Taylor seemed relieved to have had surgery on a finger that, according to Self, "dislocated almost every day (second half of season)."
"My ligaments were all torn up. I mean, it was jammed. It got to the point it wouldn't jam any more. Every time I got hit, it'd pop out," Taylor said, noting "once I realized my ligaments were torn, it was midway through the season. With six to eight weeks (of) rehab, it was too late to do anything about it. They cut me open (Friday). They tied some stuff together to make it stronger."
He didn't make excuses during the season, but now that he looks back, "I couldn't shoot with my fingertips," Taylor said. "I was using my palm a lot. I got my stroke down toward the end, but I changed my shot a lot. It didn't affect how I dribbled, catching the ball or playing defense, but it was uncomfortable playing with my fingers taped all year."
He said the finger surgery is one reason he elected to not test the NBA Draft waters.
"When you are at this level, in a program like this, there will be a thought in my head," Taylor said of turning pro. "I definitely thought about it. I didn't hear too much (about his draft stock). I didn't have too much to go off of.
"It was me thinking I was good enough. I mean, it's my dream. If I feel I'm good enough to be there ... looking at the draft board, comparing myself to those guys there, I think I can play in the NBA. My time is going to come. I'm not rushing it. I will get a degree, and I'm excited. We're going to have a good season."
KU sophomore forward Thomas Robinson said his decision to return for a third year was definitely a tough one.
"Just the fact it's what I've been playing for my whole life. You feel you've got there already," he said of positioning himself for the NBA. "I look at the fan support here and everything I have not accomplished. If I leave now, my legacy would not be how I want it. I want to come back to school and make a name for myself as a Jayhawk and try to improve to be one of the best bigs in the country."
Also, "with the potential NBA lockout, there may be no training camps. I have one of the best big-man coaches right here. Another year with D. (Danny) Manning is huge for me. I want to come back and be leader of the team."
The Morris twins, who are leaving KU after three years, are confident they made the right call. Self on Monday said it was a "no-brainer" for them to leave.
"There may have been some deliberation, but it was strictly emotional," Self said. "From a factual standpoint, they needed to go."
Marcus Morris said: "At the end of the day, it's why I play basketball, to achieve my dream, to have things I never had and live the way I never lived before. It's not about the money, it's about the success. I'm happy having a coach backing my decision and not going against it. I feel the time is right."
As far as the monetary part ... "It will definitely help my mom out. Some people can't imagine where I came from (Philadelphia) and the places I lived before I came to Kansas," Marcus said. "If you knew my story, you knew things I never had growing up. You'd understand why.
"I'll be back here a lot. I feel I have to come see my little brother 'T-Rob' (Robinson) play. He is family to me, one of my brothers. I have to come back, make sure he's fine, things like that."
Marcus said his mom, Angel, likely would keep her apartment in Lawrence. "She's taking care of T-Rob, too," Marcus said of Robinson, whose mom died in December.
Markieff Morris said he'd like to be drafted, "by whoever would pick me and my brother. That would be my favorite team, the team I'd want to play for."
Marcus added: "Even if I went in the second round and we went to the same team ... I'd take that."
•
Several Jayhawks commented on Selby's situation.
"I wish him the best of luck whatever he does," Taylor said. "I've not talked to him much. I'm not sure what he's thinking.
"Our guard play is good. With him, it makes it better. I think we'd be really good. I think we'd be good without him, too," Taylor added.
Noted Marcus Morris: "I talked to him a couple days ago. He said he wasn't sure. He's weighing options. Hopefully he comes back, or whatever he does I hope he has good success at it."
Added Robinson: "I talk to him a lot. When we talk, it's not about basketball. Right now, he has a lot on his plate. I feel I know where he's coming from. I'm sure Josh will make the right decision."