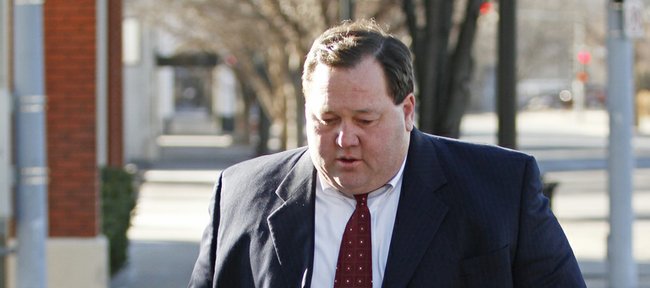 Wichita — Thomas Blubaugh, a former consultant to Kansas Athletics Inc., is headed to prison for his role in tickets scheme that prosecutors say cost the department at least $2 million.
Whether, or when, his wife joins him in custody is set to be determined later this week.
Blubaugh, 46, was sentenced to 46 months in prison, plus three years of supervised release, for conspiracy to commit wire fraud. He had pleaded guilty to the charge in January, and is the third person to be sentenced on the charge that a Kansas University investigation determined had involved the theft and distribution for personal gain of more than 17,000 men's basketball tickets and more than 2,000 football tickets.
"I offer no excuse for my actions, because there is none," Blubaugh said in court Wednesday in Wichita.
U.S. District Judge Wesley Brown also ordered Blubaugh to pay up to $841,111 in restitution to Kansas Athletics. He and his wife also are jointly responsible for paying the IRS $268,292 for unreported taxes.
Brown sentenced Blubaugh in the same courtroom where Blubaugh's wife, Charlette Blubaugh, is set to face sentencing on the same charge Thursday.
Charlette Blubaugh is former director of the department's ticket office, holding that job until her resignation in early 2010. That's when federal investigators had been checking into missing tickets, and suspected illegal sales through brokers and distribution to others.
Thomas Blubaugh, a former director of athletics ticket operations at the University of Oklahoma, was on the Kansas Athletics payroll as a consultant from August 2007 until January 2010. Prosecutors say they still aren't sure what consulting duties he had handled, other than furthering the conspiracy.
In a filing Monday morning, prosecutors detailed the $841,111 in proceeds the Blubaughs reaped from the conspiracy:
• 2005: $35,440.
• 2006: $124,210.
• 2007: $115,085.65.
• 2008: $229,224.84.
• 2009: $337,150.80.
The Blubaughs "enjoyed a lavish lifestyle, including an expensive home in Cedar Creek (in suburban Kansas City) with pool and customized patio," wrote Richard Hathaway, an assistant U.S. attorney, in a motion filed Monday seeking a sentencing of 57 months in prison for Charlette Blubaugh. "They purchased vacations, vacation timeshares and a motor home. And they have not provided the government with a reasonable explanation of all that happened to the money."
Thomas Blubaugh had sought a sentence of 21 months in prison. He also has asked for a delay in the start on whatever sentence his wife might receive until after he has finished his, so she would be able care for the two children they have together, ages 6 and 5.
In court, Thomas Blubaugh apologized for the situation he has placed his children in.
"Unfortunately, my actions will leave them with an embarrassing legacy that will affect them for the rest of their lives," he said, reading from a written statement.
Thomas Blubaugh's sentence is equal to that imposed upon Rodney Jones, former associate athletics director for the Williams Fund. Kassie Liebsch, a former systems analyst who had taken over the tickets job upon Charlette Blubaugh's departure — only to resign upon their indictment in November — has been sentenced to 37 months in prison.
Still awaiting sentencing next month is Ben Kirtland, former associate athletics director for development. Kirtland is the Kansas Athletics official who signed off on consulting payments to Thomas Blubaugh.
The conspirators all share responsibility for a $2 million forfeiture judgment, intended to ensure that none of them retains any profits from their illegal activities.
Two other former Kansas Athletics employees — Jason Jeffries and Brandon Simmons — earlier had been granted probation after pleading guilty to their failure to notify authorities about the scam.
Authorities say the theft of tickets occurred from 2005 to 2010.
And authorities are still checking into the recent discovery of 14 boxes of tickets found in a storage unit in Lenexa that had been maintained by Thomas Blubaugh. The boxes included some tickets considered "deadwood," because they didn't have a market: soccer, baseball, women's basketball and some for football and men's basketball.
"But there were over 3,000 Orange Bowl tickets (an event that was sold out) and thousands of parking tickets (which we have to purchase from KU parking and sell to donors)," said Judy Pottorff, the department's general counsel, as quoted in Hathaway's motion filed Monday. "There are some tickets to some games that were sold out (KSU football games)."
Following Monday's hearing, Hathaway declined to discuss the discovery of the boxes of tickets found in Lenexa, saying that such information would be addressed Thursday, during Charlette Blubaugh's sentencing hearing.