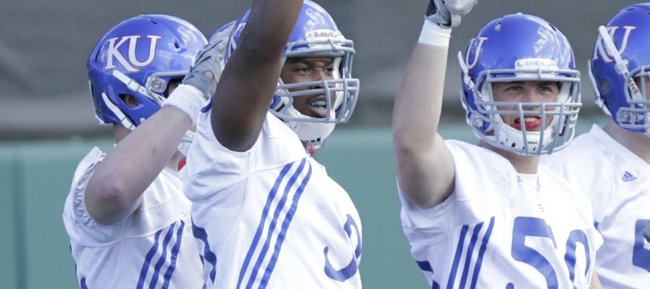 For most of 2010, Kansas University linebacker Darius Willis, a transfer from Buffalo, sat quietly and did his best to be part of the team.
But the metal bleachers he sat on and the short chain-link fence between him and the KU bench made it hard to be heard. That was on Saturdays, game days, when the Jayhawks struggled to a 3-9 record and desperately missed the kind of help Willis could have provided.
It's not as if Willis was some kind of Ray Lewis clone who could have started right away and made 100 tackles from his spot in the middle of the KU defense. Not yet, anyway. But he could've helped. He could've brought depth to a thin position. He could've brought the kind of toughness that earned him all-state and all-district honors at Eisenhower High in Houston his senior year. He could've brought experience, the kind that made him the only true freshman to start at Buffalo in 2009 before an injury cost him the final eight games of his first season of college football.
Willis could have done a lot of the things for the Jayhawks last year. But the funny thing is, even without doing anything, he made quite a name for himself.
Speaking at his season-ending news conference a few days after the team's loss to Missouri last November, KU coach Turner Gill laid out what people could expect from Willis in 2011 and beyond. He did not hold back.
"He already has shown tremendous leadership," Gill said of Willis back in November. "I'm not only speaking on my behalf, but I'm also speaking on behalf of the players. I gave them a little survey and asked them to choose who they believed would be great leaders for us as we go into our offseason program. I think (Willis) gathered about 80 percent of the votes. That was kind of an eye-opening thing, as this guy was on the compete team this past season, but our guys have already spoken about him being a leader."
Though he earned numerous honors for his behind-the-scenes efforts with the Jayhawks last season, Willis remained anonymous, little more than a name and a number, if that. He was named the compete team defensive player of the year, earned compete team player of the week status twice and compete team special teams player of the week another time. It helped. But only so much.
"When I was sitting in the stands, I would try to tell (my teammates) about the things that I saw that I thought could help them in the game," Willis said. "You can give 'em advice, but you're not really out there with 'em, so you don't know if they're really gonna take it or not."
Six practices into spring ball, that's no longer an issue for Willis, who plays like a man possessed and is obsessed with making up for all the time he missed by red-shirting last season.
"I'm looking forward to pushing this team to greatness," he said. "I hate losing. And I know the rest of my teammates hate losing, so I'm going to push them just like they're going to push me. If I mess up, I want them to be on me just like I'm going to be on them. We're all in it together."
It's that attitude that has made the 6-foot-3, 243-pound Willis such a popular player with his teammates even though he has yet to play an actual down for the Jayhawks. He's equal parts confident and camaraderie and he's willing to work until he drops.
"Whenever you're on the battlefield with your teammates or whoever it is, if you're out there with them, they're gonna respect you a little bit more than if you were just sitting on the sideline watching," said Willis, a natural fit at middle linebacker. "My talent that I have, honestly, I feel like it can be world class. Knowing that I have two people on the outside that can support me and that rely on me, it kind of helps me and I kind of feel like just being out there with them makes all three of us better. Now that I'm actually getting back out here and getting into a rhythm, it's starting to slow down and click again."
Sophomore linebacker Huldon Tharp, a candidate to start alongside Willis this fall, missed all of last season because of a foot injury, added: "I've seen a lot of athleticism from him and I've seen a lot of want-to. I mean, he's determined to be successful."
Newcomers shine at scrimmage
KU played its first scrimmage of the spring Saturday morning and a couple of new faces made big impressions.
Freshman running back Darrian Miller, of Blue Springs, Mo., scored four touchdowns and was cited for great vision and speed burst. And defensive end Julius Green, a freshman from Houston, was credited with several tackles, including a handful behind the line of scrimmage.
"Julius has done some good things," Gill said in a university release. "He's probably not as far along as Darrian, but part of that is because running back is usually a position you can shine at quicker than on defense. Julius has some good things going on."
Quarterbacks Quinn Mecham and Jordan Webb split the first-team snaps on offense, and Gill also said he was pleased with the speed on defense.
The Jayhawks, who have nine practices remaining this spring, will be off today and will return to the field Monday. The annual spring game is set for 1 p.m., April 30.
More like this story on KUsports.com