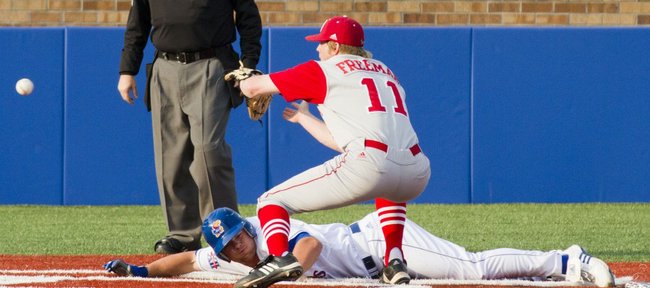 Nine timely singles, three survivable errors and three strong pitching performances.
That was the winning formula Friday night for Kansas University's baseball team, which crept closer to .500 with a 5-4 victory against Nebraska at Hoglund Ballpark.
Senior starter T.J. Walz, of Omaha, Neb., continued his mastery of his home-state rival with a six-inning, six-strikeout performance that led to his third win in four career tries against the Cornhuskers.
Asked if it had become routine to hurdle the Huskers, Walz said no and pointed to the loss as the reason why.
"(Last year), I didn't throw well against them, and they knocked me around a little bit," Walz said. "So it was great to go out and give my team a chance to win. I didn't have my best stuff today, but sometimes you don't have it, and you just gotta go pitch."
The victory, which moved Kansas to 14-16 overall and 5-5 in Big 12 play, was especially pleasing for KU coach Ritch Price because of what it meant to his hard-working ace.
"I was thrilled for T.J. tonight," Price said. "To beat his hometown team three out of four times in his career, he grinded and he showed the maturity of what a Friday-night starter in this conference has to have to be successful."
Specifically, that was pitching through poor defensive moments behind him.
A throwing error in the third allowed Nebraska (20-12, 2-5) to touch Walz for three runs, all unearned, and momentarily put the Jayhawks behind, 3-2. But Walz got out of the inning with minor damage, and Jimmy Waters and Zac Elgie came up with RBIs in the bottom of the inning to give Walz the lead back.
All of KU's nine hits were singles, just two of which led to RBIs.
Nebraska tied the game in the fifth when a pitch from Walz hit Kash Kalkowski on the elbow with the bases loaded. But, again, KU answered in the bottom of the fifth and took the lead for good on an RBI single from Jason Brunansky.
That set the stage for the KU bullpen to work its magic. Freshman Frank Duncan pitched 12⁄3 innings, walking two and striking out two, and Colton Murray picked up the final four outs in dramatic fashion.
After another KU error in the eighth left the door cracked and allowed NU to load the bases, Duncan came out, and Murray entered. He wasted no time in coercing Josh Scheffert to ground out to second to end the threat.
"I've learned to love high-pressure situations," Murray said. "And bases loaded is definitely one of my favorites. Most people are shaky knees, and I really enjoy coming in when the bases are loaded."
More drama unfolded in the ninth when Nebraska had a runner at third with two outs and its best hitter stepping to the plate. Rather than give third baseman Cody Asche a chance to tie the game, the KU bench asked Murray to pitch around him. It worked for two pitches, but the third pitch, on a 2-0 count, sailed right down the middle and could have been trouble.
"Yeah, I left it over the plate, and I got scared," Murray said. "I thought he was gonna swing, and I was just like, 'Thank God.' Because it was definitely a hittable ball."
Added Duncan: "Everybody in the dugout kind of just swallowed pretty hard there, and it was a little edgy, but, knowing Colt, we know we have a guy that we can trust back there."
Murray fanned the next batter to secure the victory, adding another chapter to the book of relief that has been so good to the Jayhawks this year.
"They've been crucial in the big games we've won against the best opponents that we've played," Price said of Duncan and Murray. "I think it's just like what you see happen in the big-league games: It shortens the game for you, and it shortens the number of pitches your starter needs to go before you turn the ball over to your bullpen."
So many times this season the Jayhawks have benefited from solid back-to-back performances from Duncan and Murray. Because of that, the two have been linked as the dangerous duo out of the KU bullpen.
"I'm fine with that," Duncan said. "I'm the yin to his yang."
KU and Nebraska will resume the series at 2 p.m. Saturday.
More like this story on KUsports.com