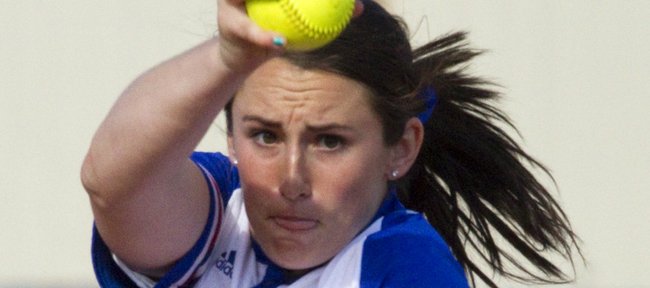 There's plenty to be said about the Kansas University softball team's tenacity.
But there's plenty more to say about what has gone wrong for KU since conference play started March 3.
After getting flattened by No. 14 Oklahoma, 12-6 and 13-5, in Wednesday's doubleheader, the Jayhawks (27-11 overall, 0-8 Big 12) are still winless in the league.
"It's always frustrating. It's always kind of discouraging to get two losses in one night," KU catcher Brittany Hile said.
Though the Jayhawk offense busted out of a recent slump, none of KU's pitchers were effective from the circle.
Allie Clark and Ashley Spencer surrendered a combined 10 walks in the first game and also fell victim to five KU errors.
Kristin Martinez lasted only three innings in Game Two, and neither Clark nor Spencer could hold back the potent Sooners (31-10, 4-2) in relief.
After smashing nine hits in Game One, OU teed off for 20 in Game Two — including five from Dani Dobbs and a grand slam from Keilani Ricketts, who also pitched five scoreless inning with 10 strikeouts to earn the win in the opener.
Now the pitching staff, which was so dominant during KU's 26-3 start, has a collective ERA of 7.88 in eight Big 12 contests and has yielded 82 hits in 501⁄3 innings.
"We knew pitching was going to be a work in progress this year," KU coach Megan Smith said.
Down 8-0 in the first game, KU staved off being run-ruled with a six-run fifth inning — highlighted by a two-RBI double by Maggie Hull and a three-run homer by Laura Vickers.
"I don't ever want them to lose that fight because we give up runs," Smith said. "I want them to continue to push and continue to put runs on the board."
The same scenario played out in the second game, where, down 9-1 and facing being run-ruled, KU struck for four straight runs — a three-run homer by Maggie Hull and a solo shot from Hile, who also homered earlier.

More like this story on KUsports.com