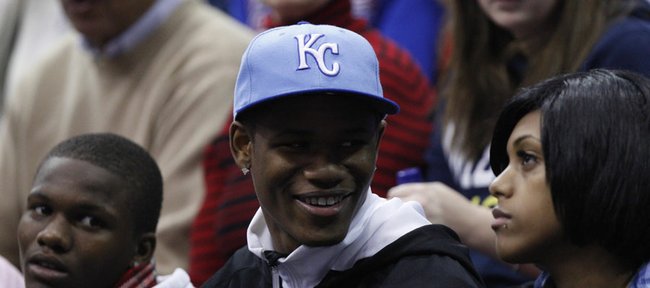 Kevin McLemore stood to the side and watched with pride as his big brother, Ben, orally committed to Kansas University over runner-up Missouri at a news conference Sunday at Sears Centre in suburban Chicago.
"He's the next up-and-coming star of the family," cousin Richard Boyd said of Kevin, a sophomore guard from St. Louis' Normandy High. "Hopefully, in two years we'll be doing this again."
It's too early to tell if Kevin McLemore will emerge as a major-college recruit. One thing's for sure: He will play college ball if KU-bound Ben has anything to say about it.
"He has helped me a lot. He showed me a couple moves," Kevin said.
Does Ben remind his little brother of anybody?
"I'd say LeBron James," Kevin said. "He loves LeBron James. We'll be going against each other, and he'll say he's LeBron James."
Of course, there's no way the soft-spoken Ben McLemore, a 6-foot-5 guard out of Houston's Christian Life Center, would ever hint he is a LeBron in the making.
"I think Ben is one of the most humble, unselfish kids I've ever had the pleasure of being around," said Darius Cobb, McLemore's AAU coach, formerly of the St. Louis Majestics, now with Missouri Impact.
"You ask me what I expect of him at Kansas his first year. Whatever Bill (Self, KU coach) wants him to do, he'll do it. If he needs 30 (points), he'll give him 30. If he needs 15 assists, he'll give him that. If he needs 40 minutes of defense, he'll do that. If he needs him to keep stats, he'll do that," he added.
Cobb first started working with McLemore when Ben was in the fifth grade. Now Ben is Rivals.com's No. 17-rated recruit nationally.
"I would say by his eighth-grade, ninth-grade year," Cobb said of when he knew Ben had major-college potential. "Because everything he did was so smooth and fluent. In sixth, seventh grade, he was a center. I guess everybody thought he'd be the next Shaq," Cobb added, noting McLemore stood 6-1 at the time.
"He's a legit 6-6 now," Cobb said. "I think he's still growing."
Cobb said McLemore is a true gym rat.
"That's the understatement of the day," Cobb said. "AAU, high school, neighborhood pickup ... wherever he could play, he'd play."
On one condition.
"As long as he did his schoolwork and housework," said his mom, Sonya, who goes by the nickname of "Peaches."
She acknowledge basketball is Ben's passion.
"For now it is," she said. "Things can change."
That's why, in her mind, "getting a degree would be the first priority. It's all about the education."
Which brings us to rumors that McLemore will not qualify academically for a scholarship. His first high school, St. Louis' Wellston High (where he averaged 28.3 points and 12.7 rebounds as a junior) was closed down by the state after his junior year.
He moved on to Oak Hill Academy in Mouth of Wilson, Va., where he was dismissed this winter for violating undisclosed team rules. Now he's finishing high school at Christian Life Center.
"Ben has never had academic problems," Cobb said. "He is like any high school kid who maybe didn't realize at first the importance (of grades). At the beginning of his junior year, he took his first core courses and did well. I think rumors of him being a nonqualifier might have helped Kansas. Some schools didn't recruit him."
Cobb added that he felt Ben would qualify at KU.
As far as Ben's dismissal at Oak Hill, school officials have never commented on the matter.
"That wasn't a grade problem. I broke a school rule," Ben told Cedric Williams of earlaustinjr.com, not identifying the rule. "I didn't know it was against the rules. But I did it. And I learned a lesson from it. And now I'm just concentrating on getting my grades good so for next year."
Christian Life Center coach Carlos Wilson said he has been impressed in the short time he's known McLemore, who averaged 16 points and seven rebounds in six games.
"He's probably one of the most athletically gifted kids that I've ever had the opportunity to coach," Wilson told Rivals.com. "He just got in, and you would have never been able to tell that this kid was a top-20 kid or a kid that was a high-major-caliber kid, because his demeanor didn't portray that. He got in and worked like he was one of the guys. That was the most impressive thing about him, and that's why the guys opened up to him so quickly."
McLemore showed the ability to score inside and out at the NeXt All-America game. He swished five threes in the all-star game's scrimmage Saturday and slammed a vicious dunk after driving the middle of the lane in overtime of Sunday's victory.
"I loved his outside touch," Wilson said of his work at Christian Life Center. "Everybody knows he's athletic, and he's a monster athlete, but you don't have many athletes that are high-level athletes that are also high-level shooters. I've been watching him stroke the ball, and I think he's just as good a shooter as he is an athlete."
Coach Cobb helps
The McLemore family has praised Cobb for his assistance during the recruiting process.
"Whenever I got headaches, I'd pass it to him, and he'd take it," Ben's mom, Sonya, said of Cobb.
He was happy to lend a hand.
"Ben experienced a lot of pressure being a hometown kid. Mizzou had an up-and-coming program and had great coaching there with Mike (Anderson) and Melvin (Watkins). The staff (which has moved on to Arkansas) was very accommodating to Ben and his family. At the same time, he had a lot of people looking at the excitement that Kansas is creating, the national championship, the ability for him to come in and be a premier player."
Mom loves MU
The McLemore recruiting story might make a good movie some day. Peaches is a passionate Missouri fan who flat-out admits it's tough for her to accept her son heading to MU's rival.
"As a mother, I am here to support him," she said.
Yet the two had some good, old-fashioned family arguments during the recruiting process.
"Were there friendly fights?" she was asked.
"Friendly?" Cobb said with a laugh.
"Yes, we did (argue)," mom said. "It was tough. One thing changed it. He came and said, 'This is where I want to go.' As a mom, there's support here."
Peaches smiled Sunday when Ben was asked if it was a red-letter day in his young life.
"I'm getting at that age making decisions on my own now," McLemore said. "It is one of the happiest days of my life. My whole family is with me now. I made my decision. I'm so happy right now."
McLemore's nicknames?
B-Mac and Flight School, according to his three sisters.
Josh back home
KU freshman Josh Selby's Twitter account has several posts revealing he's back in his hometown of Baltimore this week. Selby has yet to make an announcement on whether he's to return to KU for a second season or enter the NBA Draft.
Meanwhile, NBA writer Alex Kennedy tweeted on Tuesday that "Josh Selby will enter the NBA Draft and hire an agent, according to sources. He's currently working out at Impact Basketball in Las Vegas."
Selby's mom Maeshon Witherspoon said on Tuesday that reports were not true and no decision on Selby's future had been reached. She said she was "sorry for the speculation" and would report news when any decision had been reached.