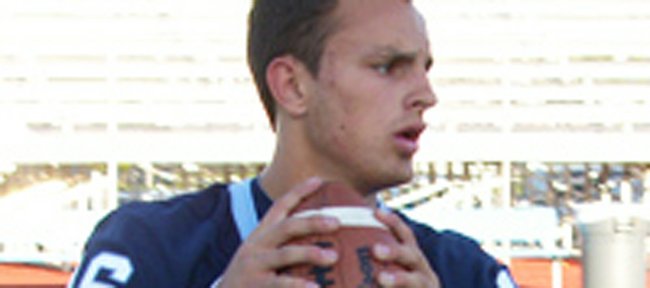 Three practices into spring drills, the Kansas University football program received some good news Tuesday.
Brock Berglund, the three-star quarterback from Highlands Ranch, Colo., who graduated from Valor Christian High last December, enrolled and began taking classes at KU in January and returned home in early March because of "personal circumstances," told the Journal-World, via text message, that he would be in town to watch a portion of spring practice.
Originally expected to miss the entire spring, Berglund said Tuesday he planned to come to Lawrence to be with the team Wednesday through Saturday for the next two weeks.
"I'll be there to watch, learn and to be with my teammates as a part of the Jayhawk football family," Berglund said.
When he arrives, Berglund will be competing with returning quarterbacks Quinn Mecham, a senior, and Jordan Webb, a sophomore. His presence this spring, though not as beneficial as if he were actually participating, could help his chances in the race to become KU's starting QB.
"Absolutely," KU coach Turner Gill said on signing day in February of Berglund having a chance to win the job as KU's starting quarterback. "All four of the (members of the Class of 2011) who are (enrolled in classes at KU) right now have a slightly better chance because they've already gotten acclimated with the campus and also to their teammates and our coaching staff. They're six months ahead of the guys who will be coming in later. It doesn't mean that they're always going to respond in the right way, but they'll have a better chance. They'll have a better chance of not just competing for a job, but competing for a starting job."
Berglund, 6-foot-4, 205 pounds, is the 13th-ranked dual-threat quarterback in the country and the No. 3 player from the Class of 2011 in Colorado. He led Valor Christian to back-to-back state titles and, last fall, was named the Colorado 4A Player of the Year after throwing for 2,150 yards and rushing for 952 more.
He signed with KU after originally committing to Colorado and then backing out on that oral commitment when CU fired Dan Hawkins.
Known for having abundant confidence in his abilities, Berglund said he did not expect anything to be handed to him at KU and realized he'd have to earn whatever he got.
"I believe in my abilities and what God has blessed me with," Berglund told the Journal-World in January. "If I'm the first-string guy, then I'm the first-string guy. If I'm a back-up, I'm a back-up. Wherever I land is where I land. But I'm gonna put everything out there. I'm gonna give it all I have."
Added Gill: "Brock is the ideal student-athlete we want in our program. He has proven that he is a winner. He not only has great football skills, but he possesses great vision and tremendous leadership abilities."
The Jayhawks were off on Tuesday and will return to the practice field this afternoon for the fourth of 15 spring practices.