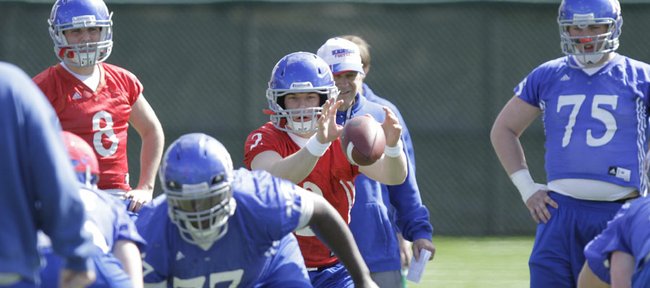 For the last four months, word spread rapidly about the Kansas University football program's offseason strength and conditioning program being more intense than it was a season ago.
Friday, after the first day of spring drills, second-year KU coach Turner Gill explained why.
"We gave a lot more opportunity to lift, as in four days versus three days," Gill said. "And we did a lot more running than we did the previous year."
It's early still, but so far Gill said he liked the result.
"It was good to see our guys come out enthusiastic, running around," he said. "It shows that our strength staff and our players did a good job of staying in shape and coming out here ready to go."
The change took place within days of the Jayhawks' season-ending loss to Missouri. That loss, a 35-7 whipping and the second straight setback versus the Tigers, pushed KU's final record to 3-9. It was not what anyone in the program expected and, because of the embarrassment it brought with it, the 2011 season began immediately.
"After the Mizzou game, that first week was deadly," red-shirt freshman tight end Jimmay Mundine said. "Just because everybody was messing up, and we had to do the whole workout and extra up-downs. After everybody understood what the coaches wanted, it got a little easier. It wasn't easy, but it was a little easier."
While strength coach John Williams and his staff pushed the players to lift more, run longer and work harder, he also designed a program that emphasized sharpening the mind. That was a request from Gill, and he made it because he believes a lot of what players accomplish on the field starts between their ears.
"Better mental toughness was one thing we wanted to get established in the offseason," Gill said. "And we're gonna continue that during the spring, in the summer and during the football season. We're trying to get better production; that's the bottom line. Obviously, they gotta get stronger, they gotta get faster, they gotta get more athletic. But we wanted to teach them mental toughness."
How did he go about it?
"You do a whole lot of different activities in tough situations, just like it is in a game, and then you see how they respond," Gill said. "Do they respond at a high level? Does their body language change? When things get tough, when you get tired and you're not feeling as good or you're sore, can you mentally push through it and still be productive on the field? You can control this part. You can compete every day. Some people have mental toughness, and they can battle through it. Some don't."
For the most part, Gill said his players exceeded expectations in that department this offseason. The players tend to agree.
"We got a lot of workouts in, and it was definitely hard, and it tested our mental capabilities," safety Keeston Terry said. "We all made it through it."
There was a reason for that. And, again, it had to do with the mental side of the game.
"They're really hard on us now," Mundine said. "They don't want any mistakes. They don't want anything like that. Any time you mess up in the weight room, if you skip a rep, if you don't do a rep with the best technique, you're gonna redo it, or you're gonna do up-downs for it. Everybody knows. Everybody knows. Even when guys don't mess up, they're getting (yelled) at about how that ain't championship technique or posture or anything. No hands on the hips, no hands on the head. We're gonna stand up like we're the best."
The belief here is that preaching such mind-sets in the offseason will make them habits when the regular season rolls around. From there, the Jayhawks can start talking postseason again.
"We're trying to get better production," Gill said. "That's the bottom line. You hear the old statement that you win or lose football games based on what you do January through April. And there's some truth to that. There's no doubt they have all improved, and we are definitely a better football team. Now we gotta carry it over with a football in our hands."
Jayhawks put on pads
Monday's practice, the third of the spring for KU, featured a different look than the previous two — pads.
Because of NCAA rules, the Jayhawks were required to conduct their first two days of spring drills in shorts, jerseys and helmets. Day Three brought the pads out.
"Today was a good, exciting day," Gill said. "It was good to get in pads. I saw some good things all over the field."
For Gill, along with most football coaches across the country, the practices without pads don't mean much.
"I take it with a grain of salt on Day One," Gill said last Friday. "We didn't have any pads on. Once we get some pads on and get one or two scrimmages in, then we can kind of see how guys rise to the top."
The group that did that Monday was the offensive line, Gill said.
The Jayhawks are off today and will return to the practice field Wednesday.
More like this story on KUsports.com