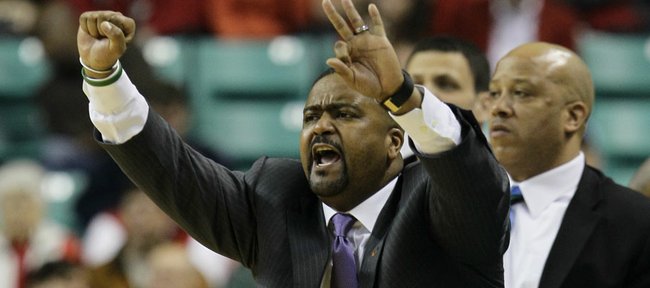 Columbia, Mo. — Frank Haith is returning to the Big 12 as Missouri's head coach.
Missouri announced Monday night that the former assistant to Rick Barnes at Texas had agreed to leave Miami and take over the Tigers.
The Hurricanes said earlier in the day that Haith had resigned to take the Missouri job, but the Tigers were quiet until university curators met for nearly two hours late in a closed session to approve his hiring.
The 45-year-old Haith spent three years as an assistant at Texas, four years as an assistant at both Texas A&M; and Wake Forest, and had stints at Penn State and North Carolina-Wilmington.
He took over Miami in 2004 as his first head-coaching job.
Missouri will introduce Haith today. He replaces Mike Anderson, who went to Arkansas after five years in Columbia. Under Anderson, the Tigers made three consecutive NCAA Tournaments and fell one win short of the 2009 Final Four. Their 77 wins over the past three seasons is the best three-year-run in school history.
Missouri athletic director Mike Alden cited Haith's recruiting skills and familiarity "with the footprint of the Big 12" as key elements in his decision. Missouri has three available scholarships for next season and will have six open slots in two years.
Haith will earn $1.5 million annually in a five-year deal, with $100,000 in deferred annual compensation and an automatic one-year contract extension effective May 1, 2012.
Alden tried last week to lure Matt Painter, but the Purdue coach instead signed a contract extension. Alden said Monday that Haith was the only person offered the job.
Haith went 129-101 in seven seasons with the Hurricanes, including 21-15 this season, when they played in the NIT. The Hurricanes went 43-69 in the Atlantic Coast Conference under Haith and made the NCAA Tournament once, losing in the second round in 2008.
Haith met with Miami's players Monday afternoon to tell them about his decision, and Tony Hernandez, the school's acting athletic director, said the group was "disappointed." Hernandez, who received word Sunday from Alden that the Tigers were talking to Haith, said he doesn't have a timetable to find Haith's replacement.
Haith's hiring surprised and disappointed many Missouri faithful still reeling from the departure of Anderson, who turned down a contract extension and healthy raise to return instead to Arkansas, where he spent 17 years as a Nolan Richardson assistant.
Alden said that Haith realizes he'll need to win over a skeptical fan base.
"I told him, 'This is the Show-Me State,"' Alden said. "That's who we are."
Also on Monday, a pair of junior Missouri starters declared for the NBA Draft in a move the school said was not related to the coaching change. Both Laurence Bowers and Kim English have not hired agents, meaning they can return to school next year if their NBA plans don't work out.
More like this story on KUsports.com