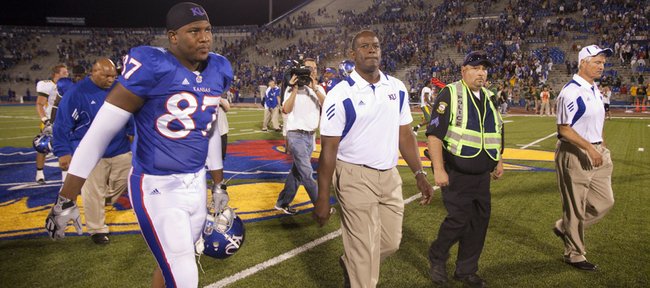 A little more than 12 months ago, Kansas University football coach Turner Gill strolled out to his new team's practice fields for the first day of spring drills and tried his hardest to project that he was in control.
It wasn't that difficult. Basking in the abundant sunshine, Gill smiled his trademark smile, joked around with his new players and spoke a language he knows as well as any — football.
Still, while the pieces from all the other spring football openers he had been a part of were in place, Gill was not completely comfortable.
"It was the unknown last year," Gill told the Journal-World Wednesday, as he counted down the hours to the start of this year's spring drills, which begin at 3:45 p.m. today. "Now it's the known. We're all a lot more in tune to where we're at."
For Gill, that means a greater sense of belonging. It's his program now. He knows it. The players know it. And everything the Jayhawks do they do because that's the way Gill wants things to be done. From emphasizing greater focus on mental toughness and explosive movements during the offseason conditioning program to which stretches and drills are done in what order during the pre-practice routine, everything that happens has Gill's stamp on it.
It's not just Gill who finds that appealing.
"There is a different feel on both sides; I'm talking from a coach's perspective and from the players' perspective," Gill said. "Now they know what the expectation is, and they know what we do and how we go about doing it. Here's what we have. Here is where we can improve. And here's how we're gonna do it."
Gill and company spent much of last spring getting used to each other. There was new terminology to learn, new rules to adhere to and different philosophies to be bought and sold.
Though a good chunk of every spring is spent shaking off the rust and getting back into the routine, Gill's hoping this year's squad will be able to work more on improving and less on feeling comfortable during the next four weeks.
"Now I know how to approach it and I know my players better," he said. "We know what we need to do to get them to respond in a better way. We didn't know that last year."
There are plenty of questions to answer this spring, but, if year two is anything like Gill's debut, there is no guarantee any of them will be answered.
Firmly planted atop the list of things to watch this spring is the Jayhawks search for a starting quarterback. Senior Quinn Mecham and sophomore Jordan Webb will be in camp and both have starting experience. They'll be competing for the job with incoming freshman, Brock Berglund, who graduated high school early, enrolled at KU in January but then had to return home to Colorado for the rest of the semester because of "personal circumstances."
"It would be helpful and great if Brock was here in the spring," Gill said. "But it doesn't deteriorate him possibly having an opportunity to still be the guy in the fall. It's no different than any other school. A lot of (freshmen) quarterbacks are coming in (in August), too. So it's no different as far as that goes. We'll just see how it all plays out."
That's the same approach Gill plans to take with all positions. No jobs have been handed out, no players are out of the running. Gill likes to give all of his guys a chance to compete for their spots.
"I just really want to see every position be more productive," Gill said, when asked which position he was most looking forward to evaluating this spring. "We've got to be better as a football team and there's not one position or another that's more important. I know everybody's going to look at the quarterback, and I understand that, but I'm looking more at the areas of offense, defense and special teams. (We want to) identify our playmakers and our leadership development. When you have those things in place, you can move forward in trying to be better individually, better as a unit and then, obviously, better as a football team."
Tharp back in action
Sophomore linebacker Huldon Tharp, 6-foot, 217 pounds from Mulvane, will be back on the field when the Jayhawks open spring drills this afternoon. Tharp, who earned freshman All-American honors in 2009 after racking up 59 tackles while playing in all 12 games, missed the 2010 season because of a foot injury he suffered last August.
Gill said Wednesday that Tharp was 100 percent and ready for spring ball.
"He's going, he's going, ready to go," Gill said.
Three returnees expected to sit
Gill confirmed Wednesday that three returning Jayhawks would miss spring drills because of injuries.
Junior running back Rell Lewis, 5-9, 205, senior cornerback Isiah Barfield, 5-11, 185, and sophomore offensive lineman Riley Spencer, 6-7, 300, all will sit out of contact drills this spring. Barfield and Spencer are recovering from shoulder surgery, and Lewis is still rehabbing the torn ACL that forced him to miss 2010.