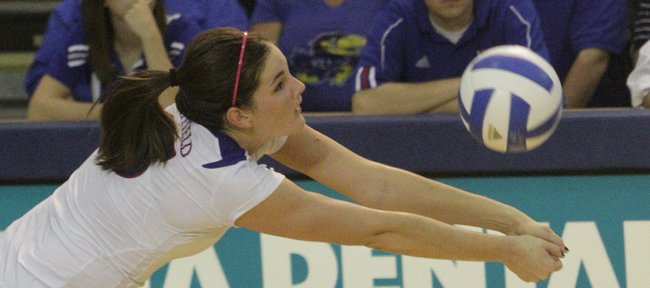 Kansas University volleyball coach Ray Bechard spent some time visiting with athletic department officials, family members, parents of his players and assorted well-wishers after a rousing four-set victory over rival Missouri on Wednesday at sold-out Horejsi Center.
"Good way to spend your Wednesday night," Bechard, KU's 13th-year coach, said after the Jayhawks' 25-21, 25-20, 24-26, 25-21 victory in a Border War series that, of late, had been decidedly one-sided in favor of Mizzou.
The Tigers had won five straight overall over KU — six in a row at Horejsi.
"The great part," Bechard said, "is we beat a very good team tonight that was playing well."
Indeed, Mizzou (10-5 overall, 2-3 Big 12 Conference) was coming off Saturday's victory at Kansas State, while KU (11-5, 2-3) dropped two in a row on the road last week and three of four overall to open conference play.
"Offensively, that was probably the best night we've had. You look at a hitting efficiency of .340, that's really good. That's like shooting 70 percent from the field (in basketball)," Bechard said.
KU senior Karina Garlington had 22 kills and senior Jenna Kaiser a season-high 16 kills against no errors. Junior Allison Mayfield had 14 kills, Tayler Tolefree six, Caroline Jarmoc five and Nicole Tate four kills and 13 digs.
"Five times in a row? Is that right?" Garlington said, expressing surprise that MU had won that many over KU and 12 of the last 16 in the series. "We're always so pumped up and amped to play them. It's a big-time rivalry so it doesn't take much to get us fired up. It's Mizzou. Everyone has a lot of fire in us. It means a whole lot to win."
Freshman Jaime Mathieu had 23 digs to go with four assists in her first extended duty of the season.
"She's a little firecracker," Garlington said of the 5-foot libero out of Glendale, Mo.
Yes, Missouri.
"It means everything," Mathieu said of beating the rival Tigers. "It's a big rivalry. It goes way back. I know it was really important to the team. I have some roots there, so it felt really nice."
Wednesday's win was huge for the Jayhawks.
A 1-4 start in league play heading to Texas Tech (6:30 p.m. Saturday) would have been far from ideal.
"After we lost to Colorado, we had a big heart-to-heart (talk) in the locker room," Garlington said. "We just really talked about what we needed to do. It was all on our side. That's what we focused on all week and tonight."
"The key was we just flowed. We had good rhythm tonight," Mathieu said.
Noted Bechard: "The team rededicated Monday to details. We had one of our better practices. That's difficult to do when you've had a little bit of an emotional hangover losing a tough match like that (in five sets Saturday at CU). They got together and said, 'Hey, this is how we're going to do business.'"
KU will meet Mizzou in a rematch on Oct. 27 in Columbia, Mo.
Notes: In all, 1,300 fans packed Horejsi, including 200 or so Tiger fans. ... KU's Morgan Boub had 11 digs ... Bechard picked up his 201st career win at KU against 184 losses ... The Jayhawks are 11-1 when winning the first set. ... KU is 8-2 at home. ... MU's Paola Ampudia, who had a school-record 35 kills in a win at KU last year, had 13 kills. ... MU leads the all-time series 49-33. MU is 16-18 in Lawrence. ... Garlington ranks ninth all-time at KU in kills. ...
More like this story on KUsports.com