Markieff Morris passed a significant milestone this past summer.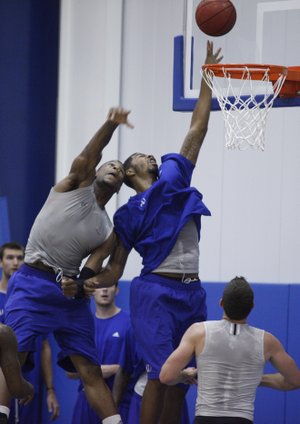 "I topped 250," Morris, Kansas University's 6-foot-10 junior basketball power forward/center said proudly.
That's 250 as 250 pounds ... an impressive load considering Morris had reached his collegiate low of 208 pounds as a worn out freshman in January of 2009.
"Coach Hudy put in a lot of work with me," Morris said of strength coach Andrea Hudy. "It took dedication, me saying, 'I'm going to do it,' and it just happened.''
Of course, weight tends to fluctuate on those who train as vigorously as KU's basketball players. Morris confessed that as of a little more than a week ago he'd dipped to "247, 248 ... that's before Boot Camp, though."
The Jayhawks tend to shed significant weight at coach Bill Self's two-week Boot Camp conditioning program, which started Monday.
"Right after the end of the season, I got right back in the gym. I took two or three days off and I was right back at it," said Morris, who along with 6-9, 235-pound twin Marcus worked out at 7 a.m. several days a week all summer and into the fall semester.
"If I make it to the NBA, I think I can get to a solid 250 consistently," added a modest Markieff, not yet assuming a pro paycheck is in his future.
Markieff Morris — he was listed at 6-9, 232 at the start of his sophomore year after reporting 6-9, 235 his freshman season — has credited his mom's home cooking (shrimp alfredo and fried chicken) as well as lots of peanut butter and jelly sandwiches for helping the pounds "stick."
"We try to eat right here," Markieff said of he and Marcus, who is listed 6-9, 235 after opening his sophomore season 6-8, 225.
Markieff was the forgotten twin this past summer — one in which Marcus received gads of publicity after attending the Amare Stoudemire camp in Chicago, LeBron James Skills Academy in Akron, Ohio, U.S. National Team training camp in Las Vegas and Adidas Nations Experience in Chicago.

Markieff received an invitation to just one of those camps, the Adidas event.
"I wish he could have been at those camps with me because I think he'd do real well. I think 'Kieff will be a big sleeper this year," Marcus Morris said. "He's getting up early in the morning and lifting weights two times a day. I think he's going to explode this year."
The twins had to adjust to being away from each other for the first time in their lives.
"I wouldn't say we are independent. We still feel like we're the Morris twins and not Marcus and Markieff," Markieff said. "I could say, as of now, we can handle a week away from each other," he added, smiling.
Teammate Tyshawn Taylor said Markieff was quite focused when Marcus was out of town much of the summer.
"I think when his brother was gone a lot traveling, 'Kieff was here and was like, 'I might as well be in the gym,''' junior guard Taylor said. "He put in the work and it's showing.
"I think he's gotten so much better," Taylor added of Markieff, who averaged 6.8 points and 5.3 rebounds a game last season after marks of 4.6 points and 4.4 boards in 2008-09. "He can beat a big guy off the dribble quick and can step out and shoot it. I think he's got a lot of the stuff Marcus has got, people just don't see it as much with him playing with his back to the rim."
Markieff — he hit 56.6 percent of his shots last season including 10 of 19 threes (52.6) — plans on stretching the defense again this year.
"Of course," he said with a smile, asked if coach Bill Self has given him the green light from beyond the arc. "He wants me to shoot it more this year. He thinks I passed up a lot of open threes. I've got to get more fluid with it, more consistent."
Markieff could log more than last year's 17.6 minutes per game following the early-entry NBA departure of center Cole Aldrich.
"It definitely is a chance for me to start," said Markieff, who started two of 36 games a year ago.
"Playing against Cole every day in practice the past two years has gotten me ready for this point. Teaching me how to be a leader and how to control the paint is what Cole taught me the last two years."
Self — he's praises Markieff for his unselfishness and his passing ability — isn't about to award starting berths in September.
Yet it's pretty obvious one or both of the twins will be opening most games.
"They are more explosive," Self said of the duo. "Their work ethic has improved, (yet) there's still another gear they can take that to. Marcus needs to continue to advance his perimeter skills, which I think he showed late in the season he definitely possesses, and I think 'Kieff needs to continue to get better conditioning-wise. We're going to lean on those guys hard. I think they'll be two of the leaders going forward."
They have been leading by example in working out so early in the a.m., in the weeks preceding Boot Camp.
"You stop and think about how far those two have come," Self said. "They are two of the hardest workers we have. They are getting stronger, better."
And of course, bigger.