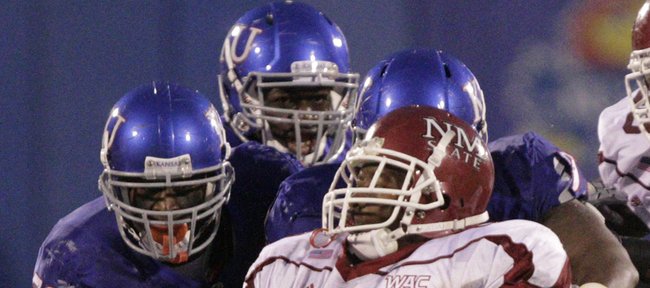 KU vs. NMSU
New Mexico State quarterback Matt Christian nursed more than a bruised ego after the Aggies' 42-16 loss to Kansas University on Saturday at Memorial Stadium.
"I might have broken my finger, right here," the 6-foot-3, 220-pound junior said, pointing to a puffy, discolored ring finger on his right (throwing) hand.
"Nothing extreme. No excuses. I think the rain and the wind had a little more to do with it than my finger," he added, referring to his 12-of-20 passing for 147 yards, a touchdown and no interceptions.
He hurt his finger on a running play in which he fumbled midway through the first quarter.
"They were big. They could hit," Christian said of KU's defense, "but I think our scheme was there. I had a rough first half (hitting five of nine passes for 19 yards as the Aggies fell behind, 21-7).
"There were some plays to be had. I just couldn't make a throw. Our offense played better in the second half."
The Aggies (0-3), who were outgained, 501 yards to 275, had the game tied, 7-7, following a one-yard run by Seth Smith early in the second quarter.
KU's D.J. Beshears returned the ensuing kickoff 96 yards for a score, and the Aggies had no answer after that.
"I think the type of team we are right now, anything bad that happens, we are just not doing a good job bouncing back," New Mexico State coach DeWayne Walker said.
"I don't want to say he's better than we thought. We knew he was a good player, but he's an exceptional player," Walker added of Beshears, who scored KU's first three touchdowns.
Walker was impressed with a KU running game that pounded out 237 yards off 44 carries.
"You have to give their offensive line some credit, (and) they have some good backs," the second-year Aggie coach said. "What he (KU coach Turner Gill) is doing — trying to build his offense around his running game — I think that is a smart thing to do.
"I think his young quarterback (Jordan Webb, 17-of 27, 249 yards and a score) ... once he gets a little more seasoned, gets some games under his belt, he's going to be a good player."
The Aggies of the Western Athletic Conference will return home to play No. 3-ranked Boise State on Saturday.
They were led by Taveon Rogers, who had six kickoff returns for a school-record 219 yards with a long return of 54 yards, and Marcus Allen, who had four catches for 89 yards and a TD and four rushes for 45 yards.
"He was the star of our team tonight," Walker said of Rogers, who had three returns of 40 yards or more. "We need his explosiveness on offense to try to start getting him in.
"Marcus ... he was the other bright spot. I thought he played a helluva game."
More like this story on KUsports.com