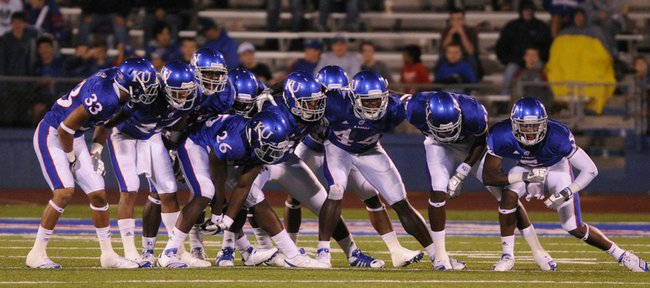 KU vs. NMSU
It's down the field they go
Through three games this season, Kansas University quarterback Jordan Webb had been sacked an average of four times a game. Saturday night, during KU's 42-16 victory against New Mexico State, Webb was not sacked once, leaving the red-shirt freshman QB with a huge smile on his face. So pleased was Webb with Saturday's performance by his offensive line, he actually was looking forward to today.
"It's an awesome feeling, obviously," Webb said. "I won't be very sore (today). Our offensive line played great today. Communication was really good, our tempo was good, and overall it was just an execution thing."
Staying on his feet more allowed Webb to look down the field more, and the KU wide receivers made that worth his while.
Webb hit deep passes to Johnathan Wilson and Christian Matthews and just missed on a handful more. Wilson finished with three grabs for 57 yards, including a long of 35 yards, which came early.
"That's what we need," Wilson said of the deep ball. "We just need some shots down the field to back 'em up. Our short passing game is great. Guys can make plays. But we need to take some shots. What I tell him is just put the ball in the air, and I'll make a play for you."
Gill flashes arm band
KU coach Turner Gill sported an arm band on his left arm in support of coaches against muscular dystrophy.
The band, white with green graphics and blue and green writing, was part of a national movement. The writing on the band simply said: "Coach to cure MD."
"This week (was) "Coach-To-Cure," Gill said. "The American Football Coaches Association picked this weekend to help support a tremendous cause, muscular dystrophy, which is a genetic disease that affects a lot of the young men in our society today. So we are very supportive of that."
Gill on the fake field goal
On KU's opening drive of the night, Gill elected to attempt a fake field goal instead of kicking the 30-yarder. The fake failed when holder Alonso Rojas' throw to Tim Biere sailed out of the back of the end zone.
"I figured that everybody was thinking it was unlikely that he would do this because of the weather, No. 1," Gill said. "And then, No. 2, I just felt it was something good to do at that particular time. You gotta take those opportunities when they present themselves. Sometimes they work, sometimes they don't."
This and that...
New Mexico State became the fourth straight KU opponent to win the game's opening coin toss. However, the Aggies became the first team this season to elect to receive instead of deferring its choice to the second half. Despite starting the game with a 54-yard kickoff return, NMSU went three-and-out during its first series.... Attendance for the Jayhawks' third home game of the season was announced as 46,719.
More like this story on KUsports.com