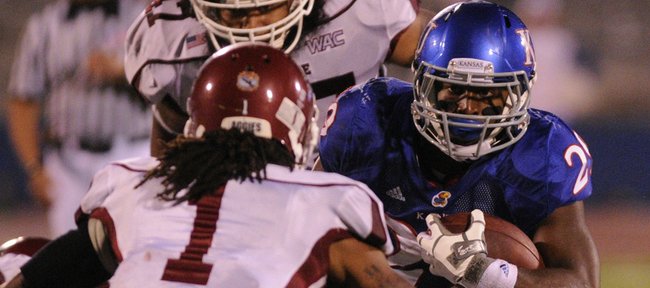 KU vs. NMSU
It seemed such a strange move when first-year Kansas University football coach Turner Gill took his most productive returning offensive player and sent him to the other side of the line of scrimmage to play linebacker.
The only way to spin it into a positive was to think that maybe Gill knew he had someone special in true freshman running back James Sims and wanted to find a way to get Toben Opurum on the field. That seemed like a stretch when neither Sims nor Opurum played in the season-opening loss against North Dakota State.
Opurum played so well as a freshman running back a year ago, but the undeniable truth is this: Sims is a better running back than Opurum. He's faster, he makes better cuts, he gains more yards per carry.
Three games into his college career, Sims already has two 100-yard rushing games. He cut, powered and sprinted his way to 115 yards and two touchdowns on 16 carries for an average of 7.2 yards per carry in Saturday night's 42-16 victory against a New Mexico State team that would finish a distant 13th in the Big 12. Sims added 49 yards on two receptions.
His first 100-yard rushing effort came in his first college game, a victory against Georgia Tech in Week 2.
A shifty, 6-foot, 206-pound back from Irving, Texas, Sims doesn't have it all figured out yet, but he'll get there in a hurry. He found his way to the end zone, but couldn't find his way to the interview room after the game, and with nobody there to escort him, he never did share his thoughts with the KU fan base, through the media, about how things are going for him so far.
Now that Big 12 play has arrived, Sims won't look quite as fast as he did against the Aggies, but he's no plodder.
"I would say he probably has a little above-average speed," Gill said. "I wouldn't say that he's a burner as far as flat-out outrun a lot of people from that standpoint, but he has good speed. Probably more a combination of the power and then also with the quick feet, making cuts."
Sims has gained 290 yards in three games and has averaged 5.5 yards per carry, an impressive figure considering how little room he was given to run against Southern Miss.
"He's been able to get better vision, finding the creases, finding the hole and hitting it, not hesitating as much, from that standpoint," Gill said. "It's great to be able to see him do that. But again, the offensive line did a great job of controlling the line of scrimmage. They've got to do that to give him a chance to find a crease and make his cuts and make his moves."
Sims looks like a natural carrying the football. Opurum will take more time to pick up the subtleties of his new position. On some plays, Opurum played with his hand on the ground, moving up to defensive end, the way James Holt used to in passing situations.
"He has some skills," Gill said of Opurum. "... I think every game I can see Toben continue to improve as a defensive player, and as we go along, he's going to be an impact guy. Whether it's going to be this year, I don't know, but I would definitely say in the next couple of years he should be somebody who will be a very good football player."
Sims already is.
More like this story on KUsports.com