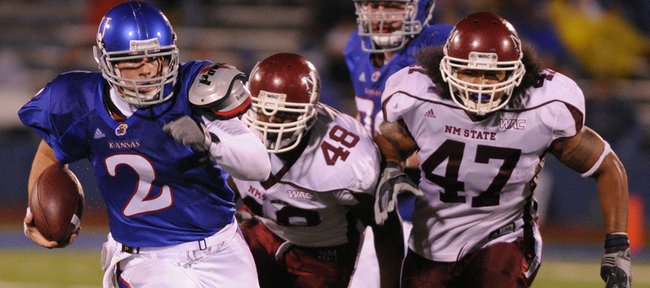 KU vs. NMSU
Johnathan Wilson said the Kansas University football coaches had greater intensity during practice in the days leading up to the Jayhawks' 42-16 victory over New Mexico State on Saturday.
"It's a really up-tempo practice, and everybody's moving around pretty good," the KU senior receiver said. "That's why we looked like the way we did out there tonight, because we practiced a lot harder."
In previous weeks during practice, Wilson said the offense would get the play, then take time to line up in the formation.
That changed this week, as after a tackle was made, KU's offensive players were told immediately to get set for the next play.
"They just ramped it up a lot," KU quarterback Jordan Webb said. "We were always working on our tempo. We knew from the get-go that was going to be something we needed to be working on. But, this week, it was definitely a lot faster."
In last week's 31-16 loss to Southern Miss, KU had troubles with miscommunication on offense. A few times, the Jayhawks used timeouts to avoid delay-of-game penalties.
Against New Mexico State, the offense looked much more crisp without many play-clock issues.
"Our tempo was great tonight," Webb said, "and if we keep improving on that, it's going to help us in the long run."
So how were things different in practice this week?
For one, Wilson said the coaches weren't afraid to yell to get the players' attention.
"They were actually kind of getting after us a lot," Wilson said, "and weren't letting us slack off."
The practices also were more physically demanding.
Wilson said he was more gassed during the practices this week than he has been in a game.
Added Webb: "Ever since our practice on Sunday, we were getting wore out every practice. They were pushing us so hard. Our tempo was really good tonight, so I'm glad it paid off."
Wilson provided KU with a deep-play threat on Saturday, leading the team in receiving yards (57). He also added a 35-yard reception in the first quarter.
"I've been trying to tell them, 'Just give me a shot to go make a play. I don't care what it is,'" Wilson said. "... I just want more chances down the field. I feel like I can help the offense."
Webb said that in the team's offensive-unit meeting this week, offensive coordinator Chuck Long told the players they were going to take more shots down the field against New Mexico State.
"The screens are a big part of our offense," Webb said, "but the deep ball is something that we're working on and we're going to keep getting better at."
More like this story on KUsports.com