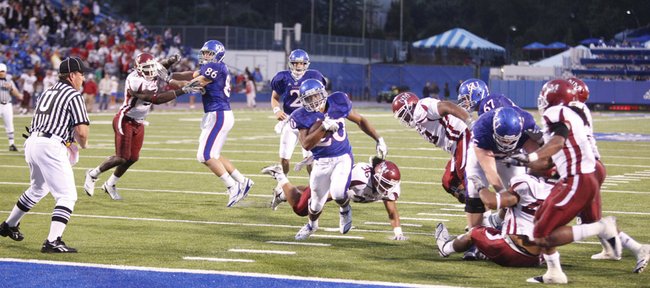 KU vs. NMSU
The dash came early, the smash came late, and Kansas University's football team finally came away with a result that was expected.
Behind three first-half touchdowns from D.J. Beshears and another 100-yard rushing night from the ever-impressing freshman tailback, James Sims, the Jayhawks pounded New Mexico State, 42-16, Saturday night at Memorial Stadium.
Credit the Tazmanian Devil for kick-starting the rout.
Beshears, a sophomore wide receiver from Denton, Texas, scored on a 10-yard run late in the first quarter, a 96-yard kickoff return early in the second and added a seven-yard TD scamper with 9:29 remaining in the first half.
On each, he displayed a mixture of killer quickness and bullish physicality that makes him as unusual an offensive weapon as there is in the country.
"All the guys joke around and call me Tazmanian Devil," Beshears said. "They say I just want to go out there and just bang heads."
As for the coaches, might they be a little leery of the 5-foot-8, 174-pound slot receiver taking such a pounding play after play?
"No, they love it," Beshears said. "They love my tenacity, so I guess I'm just gonna keep doing it."
Good idea.
For the game, Beshears finished with 161 total yards, 38 of which came off of eight carries. The Kansas offense, which entered the game averaging just under 300 yards of total offense per game, exploded for 501 yards, including 237 yards rushing.
Was it the KU offense's most complete performance of the season?
"Overall, I'd say (it was)," quarterback Jordan Webb said. "I thought the O-line played really well, Sims ran hard, the receivers made plays for me, and then D.J. Beshears had a big game, as well."
Webb's performance wasn't too shabby. He finished 17-of-27 for 249 yards and a touchdown. He also gained 33 yards on the ground. Most importantly, however, the red-shirt freshman quarterback made few mistakes and was not sacked.
"I like the way he went about his business," KU coach Turner Gill said. "He played with passion, he played with excitement, he played with self-control and poise, and then he executed. That's the bottom line."
Somewhat lost in the shuffle of Saturday's offensive explosion was the play of the Kansas defense. The Jayhawks held NMSU to just 275 yards of total offense, including 147 yards through air.
"When the offense is rolling and scoring points at our place, that always feels good," defensive tackle Patrick Dorsey said. "That takes pressure off the defense, and we'll take it."
Beshears' devilish first half sent KU into the locker room with a 21-7 lead at halftime. A big third quarter that featured one of two second-half touchdowns from Sims and a TD pass from Webb to tight end Tim Biere put the game away.
Biere's TD grab — the second of the season for the junior from Omaha — capped a 17-play, 99-yard drive that spanned 6:09 and gave the KU offense a huge dose of confidence.
"I think that just shows execution," Gill said. "They made plays when they had to."
No one more so than Beshears and Sims. While the Tazmanian Devil dominated the first half — his first TD made him the seventh Jayhawk to score a touchdown this season — Sims, the freshman running back from Irving, Texas, turned in the second 100-yard game of his career (115 yards on 16 carries), making him the first KU freshman since Clark Green in 2002 to record multiple 100-yard games in a season.
Sims' touchdowns came from one and seven yards out, and he had two others called back.
Despite the close touchdown tally between KU's newest up-and-coming offensive weapons, Beshears insisted the two native Texans did not wage their own battle-within-the-battle.
"It wasn't really a competition," Beshears said. "We just really wanted to win the game. As far as (me and Sims) competing for touchdowns, it wasn't nothing like that. We really wanted Sands to get in the end zone tonight, though."
For Gill, the bottom line was more important than any of the individual statistics.
"I liked the way we were balanced, getting 200-plus yards in passing the ball and also rushing the ball," he said. "We want to have that balance, and I think we are headed in the right direction."
Kansas (2-2) will head into Big 12 Conference play and will take on Baylor on Saturday in Waco, Texas.
More like this story on KUsports.com