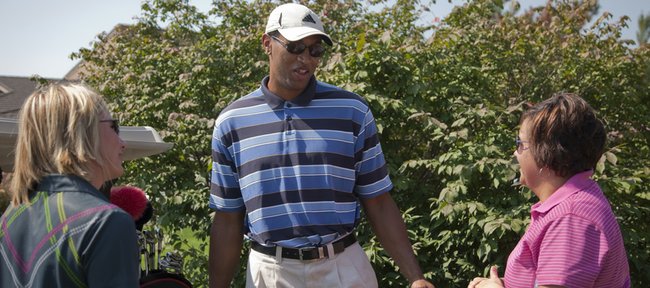 Wayne Simien will be inducted into the Kansas Athletics Hall of Fame on Saturday morning as an individual and as part of the 2003-04 Jayhawk team, Bill Self's first team at KU.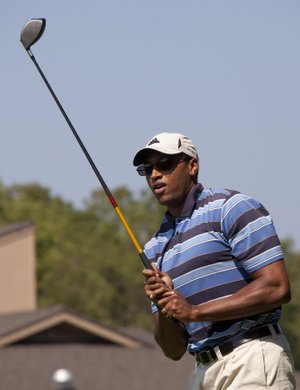 It should come as no surprise which of the two accolades former consensus first-team All-American Simien wished to discuss Monday at the Family Promise of Lawrence Golf Tournament at Alvamar Country Club.
"I'm really excited for the 2004 team induction, to get the guys together and be honored and of course be able to tell a few stories. We'll be real excited come Saturday," Simien said, downplaying his own induction by saying, "it's because of the incredible coaches and teammates I had to make my individual success possible."
The '03-04 team went 24-9, tied for second in the Big 12 and earned a No. 4 seed in the NCAA Tournament's St. Louis Regional. KU advanced to the regional final, falling to Georgia Tech in overtime.
"It was that main transition year, ushering in a new era of Kansas basketball," Simien said of switching from the Roy Williams era to the Self era.
"It was important being able to keep the success, retain the success. I definitely want to hold the team award up more than the individual."
Juniors Simien and Keith Langford each scored their 1,000th career points during that season. Simien was named All-Big 12 first team and was named to the St. Louis regional all-tourney team with Aaron Miles. Christian Moody and Brett Olson were both named first-team academic All-Big 12.
"I remember a lot about that year," Moody said Monday from Alvamar. "That was an eye-opening year of the first Boot Camp with coach Self, some long practices, some great wins for coach's first year. A lot of new guys, new faces that year came in and really stepped up. I can't forget about our seniors — Jeff Graves, Bryant Nash, Brett Olson — they were great leaders for us."
The team consisted of players already mentioned in this article, plus Nick Bahe, Jeremy Case, J.R. Giddens, Jeff Hawkins, Michael Lee, Moulaye Niang, David Padgett, Stephen Vinson and Omar Wilkes. Staff members included Self, Norm Roberts, Joe Dooley, Tim Jankovich, Danny Manning, Ben Miller, Sean Harrington and Brett Ballard.
Of former Leavenworth High standout Simien, second-year KU Med Center student Moody said: "Wayne is deserving of every award out there. He's such a great guy and humble man. I mean he is a great basketball player, even more so a great person, great friend."
Simien served as co-chair of the 2010 Family Promise Tournament with Cindy Self. Family Promise helps homeless families with children seek ways to find employment and housing. It started with eight congregations participating in November, 2008, and now has 34. For more information go to the website Lawrencefamilypromise.org.
"The tournament is a great success of being able to bring awareness to, and raise funds for the organization which has so much to offer the community in helping homeless families with children," said Simien, one of 97 golfers to participate in the scramble event.
"We're not only helping those in need, but really bringing the community together in a collaborative effort, multiple congregations all over the city to help out for a great cause. I see myself being involved as long as I can help bring awareness and any other type of good efforts to the organization," added Simien, head of his own "Called to Greatness" ministry.
Noted Moody: "Last year I got to help with this golf tournament. With med school, I haven't been able to get away from the books as much as I wish I could. My wife and her family are volunteers for the program. I get to hear a lot about it through them."
Moody and wife, Nicole, have a 3-month old son, William.
"We have all kinds of nicknames for him. We used to call Wayne Simien 'Big Dub.' William is 'Little Dub' right now," Moody said. "He is a joy, and we're having a blast with him."
Crimson and Blue on top: KU basketball staff members Barry Hinson and Kyle Keller, as well as interim KU athletic director Sean Lester and KU golf coach Erin O'Neil, won the scramble tourney with a score of 58.
More on KU Hall ceremony: KU track and field standout Charlie Gruber and three-sport letter-winner Harold Patterson also will be inducted Saturday. The Hall of Fame picture revealing, which is open to the public, will be at 10:15 a.m. at the Booth Family Hall of Athletics. The Kansas Athletics Hall of Fame was established "to formally recognize outstanding individual and team achievements and to preserve the heritage and tradition of the University's intercollegiate athletics program." The Hall of Fame display is located in the Booth Family Hall of Athletics.
More like this story on KUsports.com