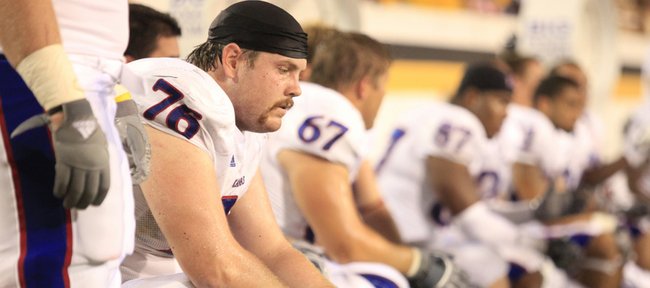 Hattiesburg, Miss. — In the three phases of football that offensive lines typically are judged, Kansas University's guys up front had issues in all of them during the Jayhawks' 31-16 loss at Southern Miss on Friday night.
Security issues
Through three games, opposing defenses haven't had a difficult time getting to Kansas University quarterbacks:
Opponent KU sacks allowed:
N. Dakota St. 4
Georgia Tech 4
Southern Miss 4
Note: Through two weeks, the national average was 1.5 sacks allowed per game.
Pass protection, run blocking and staying healthy each presented a variety of challenges for KU, which played most of the second half of Friday's loss without junior center Jeremiah Hatch because of a back injury.
The problems, however, were there long before Hatch was injured, as the Jayhawks struggled to keep the Southern Miss front seven away from quarterback Jordan Webb. Because of that, Webb was sacked four times and forced to scramble nearly a dozen times more. USM's excessive pressure neutralized KU's offensive gameplan and may have been the reason KU coach Turner Gill and offensive coordinator Chuck Long called 44 run plays and 26 passes despite the fact that the Jayhawks trailed by two scores or more throughout the night.
"Obviously, we didn't execute as well as we did last week, the offensive line especially," senior Sal Capra said. "That surprised me. I thought we were going to go out there and execute better and play hard. We just made too many mistakes."
Most seemed to be mistakes of execution, not effort. Showing a glimpse into one reason Webb has become the team's unquestioned quarterback, the red-shirt freshman from Union, Mo., shouldered a lot of the blame and backed his front five when asked after the game about KU's inability to protect him.
"We were playing hard," Webb said. "Hatch went down, (Duane) Zlatnik came in, and we moved Capra to center, and they played hard. They played as hard as they could. There's just some things that we have to work on. Maybe I held the ball too long a few times. I'm sure I did, and there's just a bunch of stuff we just gotta work on and get better at."
In all, the Jayhawks have given up 12 sacks this season. North Dakota State and Georgia Tech also recorded four sacks apiece against Kansas.
"A lot of it's communication," Capra said. "It's hard out there with them changing defenses and switching."
Injuries have not helped.
Hatch missed the first game because of an injury that lingered throughout the offseason.
Senior Brad Thorson, who was beaten repeatedly at right tackle Friday night, still is recovering from a fractured foot. And the Jayhawks also have been without junior starter Jeff Spikes, who injured his Achilles' tendon in July and is out for the season.
Because of those injuries, the KU coaching staff has chosen to shuffle its lineup in search of cohesion. Zlatnik started the opener and came in Friday to help replace Hatch. Capra already has played two different positions — center and left guard. And red-shirt freshman Riley Spencer also has been factored into the rotation up front.
"I felt like the run was there, and we blocked it better in the second half than we did in the first half," Capra said. "(As for the passing game), at times we do a really, really good job of protecting, and at times we do a really bad job of protecting. We just need to get some consistency."
The lack of chemistry on the O-line has made it difficult for the Jayhawks' offense to flow. Friday, freshman tailback James Sims ran hard between the tackles in racking up 74 yards on 20 carries, a nice encore to his 17-carry, 101-yard debut against Georgia Tech. However, in the first half of Friday's loss, the ground game was slow to get going. Overall, the Jayhawks averaged just 3.1 yards per carry against Southern Miss, gaining 136 yards on 44 carries. Twelve of those totes came from Webb, who gained 39 yards with his legs but lost 28 because of sacks.

After the game, Gill stressed again that his squad needs to find a way to perform better in short-yardage situations. And that starts up front.
"We gotta do what we gotta do," Gill said. "Put some guys out there, get some reps and get better."
One thing Webb said might help was if the Jayhawks would throw down the field more. KU threw deep just three times Friday. One pass fell incomplete, one was hauled in after a great individual effort by tight end Tim Biere, and the other was the 41-yard touchdown pass to Johnathan Wilson late in the game.
"Yeah, we really do," said Webb, asked if KU needed to open up its vertical passing game. "We need to make bigger plays. We need to make more big plays, and hopefully we can keep doing that."
Instead of doing it Friday, the Jayhawks and Webb were left scrambling.
"I wouldn't say we're trying to figure out our identity," Webb said. "We want to be a good balanced offense and run and pass about the same. Hopefully we can get to that point."
Despite the roller-coaster start to the season, Capra says the Jayhawks are aware of who they are and have a firm grasp on what they expect each week.
"You expect to win, you know," Capra said. "You expect to go out there and play your best and get a 'W.' I never expect to go into a game not planning to win or not knowing we can win."
More like this story on KUsports.com