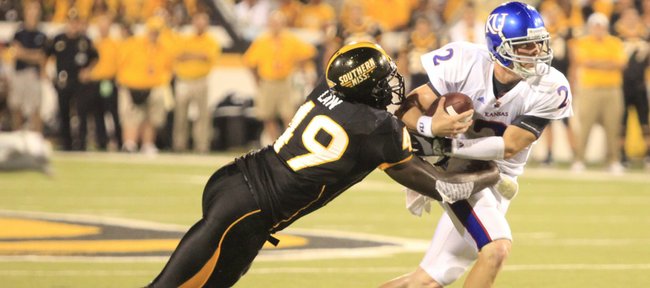 KU vs. Southern Mississippi
Hattiesburg, Miss. — Now Kansas University red-shirt freshman quarterback Jordan Webb knows what it feels like to stand on top of a freeway median with semis barreling toward him from both directions.
Time to panic. Time to run in place the way so many quarterbacks do when surroundings freeze them into inaction. Time to fumble the ball away. Time to throw it to the guys wearing the other jerseys. Time to swing the finger of blame like a pendulum, making sure everyone knows it wasn't his fault.
Webb did none of that on a night he showed his inexperience in many ways during a 31-16 loss to Southern Mississippi on a hot and steamy night at The Rock.
Webb showed the toughness to take buckling hits, the maturity to focus on the next play. On nights he receives better protection, it will be easier to judge his talent level. A Southern Miss defense too swift and strong for the Kansas offensive line created the perfect environment in which to judge Webb's toughness.
That test Webb passed, in part because of how well he ran for his life. He had 39 yards in gains running the football and 29 yards in losses, many of them coming in the time it takes to break into a sweat in the Mississippi heat.
"In general I would say it probably was OK," first-year Kansas coach Turner Gill said of Webb's play. "There were some reads there that should have been made from the standpoint of the way they are taught from upstairs."
As is the case with most young quarterbacks at all levels, to watch Webb is to ask repeatedly, "Why did he throw it there when he could have thrown it over there?" Some overcome such flaws. Others don't. It's not always easy to forecast which ones will. The guys who panic don't hold the job long enough for anybody to find out whether they'll fine-tune their abilities to read defenses. Webb has earned a long look.
"He showed very good toughness," Gill said. "Jordan's a good football player. Again, this is his first time on the road. I know it sounds like a cliché deal, but he's got to get experience, and I think he'll play better as we continue to move on."
Wrinkles need to get smoother in the area of game-management. Gill, neither one to duck blame when things sour nor hog credit when they go well, addressed the annoying recurrence of confusion as the play-clock dwindled.
"Some of it was probably us as coaches, and some of it was a little bit of Jordan," Gill said. "We are making our calls from the sideline from upstairs, and sometimes we were waiting too long to get the plays in."
Those issues figure to smooth out with time, but it's tougher to predict better blocking. Center Jeremiah Hatch, dogged by back problems, left the game and didn't return when it acted up. Right tackle Brad Thorson, not the same player since coming back from a broken foot as before it, isn't the answer for now.
Webb blamed himself: "Maybe I held the ball too long a few times. I'm sure I did."
The hits he took didn't force him out of the game.
"I don't want to sit out a play, ever," Webb said. "That's just the way I play. Nothing to it, really."
His toughness will come in handy.
More like this story on KUsports.com