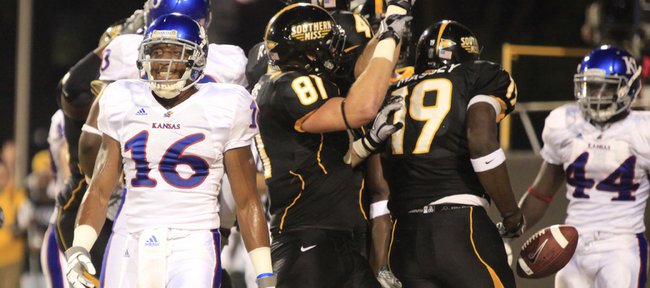 KU vs. Southern Mississippi
Hattiesburg, Miss. — Austin Davis says he was haunted after last year's game against Kansas University.
It's the reason why Friday's 31-16 victory over the Jayhawks held a little more significance for the USM quarterback.
"We had a little revenge in our eyes tonight," Davis said, "and I think that showed."
The junior quarterback had old memories come back when preparing for the Jayhawks this week.
On Sept. 26, 2009, with Southern Miss trailing KU, 35-28, late in the fourth quarter in Lawrence, the Golden Eagles called a four-verticals pass, sending each of its receivers deep down the field.
Davis threw to a sideline receiver who was double-covered, with the pass falling incomplete.
What Davis didn't know until afterward was that one of USM's middle receivers ran wide-open down the middle on that play.
"I just didn't see him," Davis said. "We ended up losing by a touchdown. So that's one I'll never forget. And that one hung onto me for a while."
Though Davis threw for 331 yards that game, it was the one mistake that he remembered most.
"It was really, really good to get out there and play well tonight," Davis said, "and to give them back what they gave to us last year."
On Friday, the 6-foot-2 junior completed 19 of 24 passes for 155 yards while adding nine carries for 61 yards rushing.
"It was a big game for us," Davis said. "We felt like it was a very, very winnable game, and I thought we came with an attitude, and we played really hard."
Southern Miss coach Larry Fedora said it was one of the most complete games his team had played in his three years with the school.
"(KU coach) Turner (Gill) is doing a great job with that football team. They'll get there. He's doing a great job with them," Fedora said. "But our guys played harder than they did tonight, I felt like, and our guys outhit them tonight. I thought we were more physical."
For Davis, the victory was a way of helping to move past one of his biggest regrets during his collegiate career.
"I thought I played my heart out that game, then you just leave that one on the field," Davis said. "Like I said, that was last year. We beat them this year."
More like this story on KUsports.com